Description
Blocking the Complications of Diabetes
What's the first thing you do when you're diagnosed with a serious disease like diabetes? Learn everything you can to become the best-informed health consumer you can be. But where do you start? The library? The Internet? How can you tell what's current … what's accurate … what's safe? Your own physician? If only doctors had the kind of time required to give their patients the in-depth education they want and need.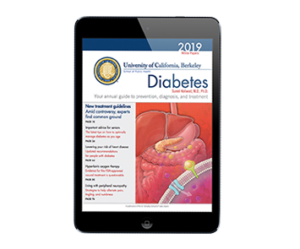 The 2019 Diabetes White Paper
Your Annual Guide to Prevention, Diagnosis and Treatment
* * * * * * * * * *
The Expertise You Need in the Layman's Language
You Can Understand and Use
In the 2019 Diabetes White Paper, you'll find information about:
Type 1 diabetes
Type 2 diabetes
Prediabetes
The best tests for detecting diabetes
The most effective methods for testing and monitoring diabetes
The latest medications
The most current dietary advice
The best exercise regimens
The most effective strategies to prevent diabetes complications
Latest Medications … Treatments … Research
The lessons of the last decade are clear: Effective management of diabetes in the early stages is the best way to prevent or minimize future complications. People with prediabetes can prevent their condition from worsening, while those who have been diagnosed with diabetes have effective ways to monitor their condition and control their blood glucose levels.
In the 2019 Diabetes White Paper, a leading expert reports on the latest diabetes treatment strategies and explores recent research on diet and lifestyle and the newest advancements in treating type 1 and type 2 diabetes. The goal of this White Paper is to help you to prevent type 2 diabetes or, if you already have it, help you manage the condition and improve your quality of life. Youll find information on the two main types of diabetes-type 1 and type 2-with a focus on the latter. Youll learn about common risk factors for type 2 diabetes, diet and exercise regimens that can help prevent it, and the best tests for detecting and monitoring the disease. In addition, youll find information on the latest medications used for treatment and advice on preventing diabetes complications.
Introducing Your Diabetes Expert
Suneil Koliwad, M.D., Ph.D., is an Investigator in the Diabetes Center and Department of Medicine at the University of California, San Francisco (UCSF), where he holds the Gerold Grodsky, Ph.D./JAB Chair in Diabetes Research. He is a board-certified endocrinologist who attends on the Diabetes and Endocrinology Services at the Zuckerberg San Francisco General Hospital.
Dr. Koliwad earned his Ph.D. and M.D. degrees from Baylor College of Medicine in Houston, Texas. After completing a Chief Residency at Baylor College of Medicine and Texas Childrens Hospital, Dr. Koliwad joined UCSF to complete a clinical fellowship in endocrinology and a research fellowship at the J. David Gladstone Institute of Cardiovascular Disease.
Dr. Koliwad formed his laboratory in 2011. His research focuses on manipulating the impact of nutrient excess on inflammation, fibrosis, and metabolic tissue dysfunction in order to stop the development of metabolic diseases such as obesity, diabetes, heart disease, and fatty liver. He is an accomplished researcher and a frequent speaker on diabetes prevention. In addition, he advocates for diabetes research and public awareness for the American Diabetes Association.
The 2019 Diabetes White Paper is designed to help you ensure the best outcome for your condition.
The more you know about managing your diabetes, the better prepared you will be to anticipate and deal with the fluctuations in its course. Learning as much as possible about the treatments and complications is the first step toward living a full life with minimal discomfort and physical limitations.
Use what you learn to help you:
Recognize and respond to symptoms and changes as they occur.
Communicate effectively with your doctor, ask informed questions and understand the answers.
Make the right decisions about your health care, based on an understanding of the newest drugs, the latest treatment options and the most promising research.
Take control of your condition and act out of knowledge rather than fear.
ORDER NOW … and this is just some of what you'll read:
New treatment guidelines: Amid controversy, experts find common ground
The latest advice to help lower your risk of heart disease
Important advice for seniors: The latest tips on how to optimally manage diabetes as you age
Hyperbaric oxygen therapy: Evidence for this FDA-approved wound treatment is questionable
Living with peripheral neuropathy: Strategies to help alleviate pain, tingling, and numbness
Its all about you: Guidelines agree on the importance of individualizing blood glucose targets
Advice on choosing a home blood glucose monitor
Living well with diabetes as you age: Practical tips for seniors
Can intermittent fasting help lower your blood glucose level?
Supplements for diabetes-buyer beware
Peripheral neuropathy: Strategies that can help alleviate numbness, tingling, and pain
Troubling findings on infection risk in people with diabetes
Hyperbaric oxygen therapy for wound care: Help or hype?
You'll also find:
A thorough overview of diabetes, its causes and symptoms …
Treatment options, with expert recommendations …
Groundbreaking new research and a review of the latest studies …
A glossary of medical terms you need to understand …
Lists of health information organizations and support groups that specialize in diabetes …

University of California, Berkeley,
School of Public Health
The White Papers are published by the University of California, Berkeley, School of Public Health. These publications are an outgrowth of the Schools commitment to help improve the health and wellness of our community of readers by publishing expert advice on prevention, diagnosis and treatment for a wide range of ailments and disorders. We provide trusted, authoritative health guidance from leading physicians and researchers at Americas top medical centers and hospitals.
The School of Public Health is
consistently rated among the best in the nation
The faculty, consistently noted as among the leading scholars in their respective fields, comprises approximately 150 investigators. Among our faculty are Institute of Medicine members, American Association for the Advancement of Science fellows, Fulbright fellows, and National Academy of Sciences members. The School enrolls approximately 575 graduate students a year, as well as educating about 425 undergraduate students through the upper-division public health major. The School's more than 15,000 graduates can be found working throughout the world, both in the public and private sectors.
The School of Public Health believes that everyone,
everywhere has the right to a healthy life
Your purchase of the Diabetes White Paper supports the School of Public Health faculty and students in their work to confront the major health challenges of our generation. A portion of every sale goes to funding scholarships. Your purchase will directly benefit your own health as well as those in your community.
You can count on the White Papers to bring you medical information that is trustworthy, impeccably researched and current.
But that's not all! Order now, and you'll also receive this
FREE Health Tips as an instant download: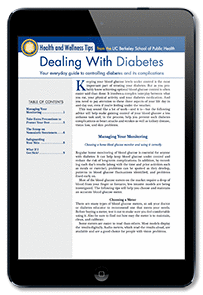 FREE Diabetes Health Tips:
Dealing with Diabetes
Managing Your Monitoring
Choosing a home blood glucose monitor and using it correctly.
Take Extra Precautions to Protect Your Feet
Critical foot-care advice for people with diabetes.
The Scoop on Non-caloric Sweeteners
Will they help control blood glucose? Are they safe?
Safeguarding Your Skin
14 skin-care tips for avoiding diabetes-related problems.
What If I Get Sick?
Controlling blood glucose when you have a cold or the flu.
Order today and save 50 percent!
Thanks to this special offer, you can get the digital edition of the Diabetes White Paper for only $19.95. That's a savings of 50 percent off the regular $39.95 cover price. Order now and download the digital edition right away.
Plus, get your free Health Tips,
Dealing with Diabetes, when you order now
Remember, this offer is entirely risk-FREE. If you are dissatisfied for any reason, simply request a refund-but you may keep the digital Health Tips Dealing with Diabetes as a gift just for previewing the 2019 Diabetes White Paper.
Fighting disease with the facts is what the White Papers empower you to do in your own life.
To order your digital copy of the 2019 Diabetes White Paper and get your free Health Tips, Dealing with Diabetes … just click on the link below.
Our no-strings, can't lose, must-be-satisfied guarantee
You don't risk a penny to take a good, long look at the Diabetes White Paper. You must be 100 percent convinced this is essential information you can't do without, or you may return it within your 30-day preview period.
Frankly, it's hard to imagine how anyone with diabetes would part with this information from leading medical experts. But you decide once you see it.
No risk. Learn the latest diabetes treatment strategies.
You don't have to take my word for it.
Just click below to order the digital edition of the 2019 Diabetes White Paper. As soon as you place your order you can download your digital edition of the White Paper and your free gift, Dealing with Diabetes. Keep the free gift even if you decide, for any reason, to return your White Paper.
Order now and download the digital edition right away.
Your complete satisfaction is fully guaranteed. This urgent information belongs in your hands without another minute's delay.