Description
The Diabetes Medical Guidebook
Your Guide to Prevention, Diagnosis, and Treatment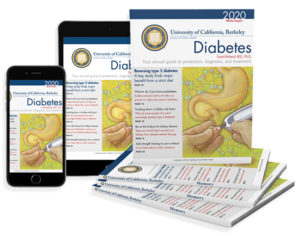 In the Diabetes Medical Guidebook, a leading expert reports on the latest diabetes treatment strategies and explores recent research on diet and lifestyle and the newest advancements in treating diabetes. The goal of this Medical Guidebook is to help you to prevent type 2 diabetes or, if you already have it, help you manage the condition and improve your quality of life. You'll find information on the two main types of diabetes—type 1 and type 2—with a focus on the latter. You'll learn about common risk factors for type 2 diabetes, diet and exercise regimens that can help prevent it, and the best tests for detecting and monitoring the disease. In addition, you'll find information on the latest medications used for treatment and advice on preventing diabetes complications.
The Diabetes Medical Guidebook is designed to help you ensure the best outcome for your condition.
ORDER NOW… and this is just some of what you'll read:
The good news about prediabetes: Evidence-based advice to help you prevent or delay the onset of diabetes
Why do some people who aren't overweight develop type 2 diabetes?: Updated findings on the link between weight and type 2 diabetes
Strength-training exercises for better blood glucose control: Adding strength training to your workout can help reduce insulin resistance
New insights challenge the notion of type 2 diabetes as irreversible: A key study finds major benefit from a strict diet in reversing type 2 diabetes
Don't let kidney disease sneak up on you: Steps you should take to protect your kidneys from diabetes-related damage
You'll also find:
The keys to keeping weight off when you have prediabetes
Is flash glucose monitoring right for you?
Keto diets: Are they safe for people with type 2 diabetes?
What you should know about biosimilar insulin
Late-life diabetes, cognitive decline, and dementia
Order today and save 50%!
Thanks to this special offer, you can get BOTH the digital and print editions of the Diabetes Medical Guidebook for only $9.95 plus shipping. Order now and instantly download the digital edition AND we'll mail you the print version of the Medical Guidebook. This way you'll have access to the digital edition immediately and you'll own a printed edition to refer to whenever necessary.
No risk. Learn the latest diabetes treatment strategies.
Just scroll below to order BOTH the digital and print editions of the Diabetes Medical Guidebook. As soon as you place your order you can download your digital edition of the Medical Guidebook.
Your complete satisfaction is fully guaranteed.