Description
Conquering the Symptoms of
Depression and Anxiety
Do you toss and turn at night or wake up at 3 AM unable to get back to sleep? Does sadness overwhelm you at times, leaving you unable to enjoy the people and activities in your life?
When your emotions cloud your outlook, interfere with your relationships or affect the way you sleep at night and function during the day, you may be suffering from depression or an anxiety disorder.
Physicians have achieved stunning success managing these life-altering conditions, and their latest findings can be shared with you right now.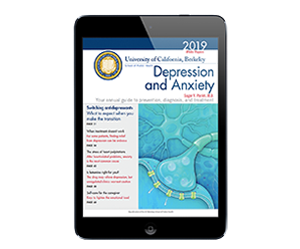 The2019 Depression and Anxiety White Paper
Your Annual Guide to Prevention, Diagnosis and Treatment
You're not the only one who feels sad or worried at times. It's normal. Life provides us with plenty of reasons to worry-about our families, our country, and our basic health and safety.
It's perfectly natural for you to respond to the ups and downs we all experience with elation or disappointment.
It's normal and expected for you to feel grief at the loss of a loved one, a job or a precious possession.
It's common, and occasionally even helpful, for you to react with anxiety to life's stresses, challenges and dangers.
What's NOT perfectly natural is when those feelings persist long after the event or condition that triggered them.
What's NOT normal and expected is when those feelings seem to come at you from nowhere, appearing even in the absence of obvious external triggers.
What's certainly NOT helpful is feeling the weight of your emotions so heavily that it interferes with sleep, prevents you from performing daily activities or arouses concern in the people who care about you.
In its milder forms, depression or anxiety can make it difficult to even get yourself out of bed each morning and to go through the motions of your daily activities. Fatigue, inertia, feelings of sadness and recurring fears can hover like a rain cloud over your life.
In their more severe forms, depression or an anxiety disorder can immobilize you, sabotage your relationships, trigger feelings of helplessness and self-destructive behavior, and perhaps even turn your thoughts to suicide.
You DON'T have to suffer this way
With new medications that promise greater relief with fewer side effects, as well as dramatic breakthroughs in diagnosis and treatment, specialists are expertly prepared to help you find relief. The very latest information and the best professional advice are spelled out in an important new White Paper for informed healthcare consumers like you. It's like inviting a medical specialist into your own home.
Introducing Your Depression and Anxiety Expert
Sagar V. Parikh, M.D., is the John F. Greden Professor of Depression and Clinical Neuroscience at the University of Michigan Medical School and Professor of Health Management and Policy at the universitys School of Public Health. He is also Associate Director of the University of Michigan Comprehensive Depression Center. Previously, he was Professor of Psychiatry at the University of Toronto, where he had been Director of Continuing Mental Health Education and Head of General Psychiatry. At Torontos major hospital grouping, the University Health Network, Dr. Parikh completed two terms as Deputy Psychiatrist in Chief and was President of the Medical Staff Association. Prior to that, he was head of the Bipolar Clinic and Director of CME at the Centre for Addiction and Mental Health.
Dr. Parikh is the author/editor of two books and nearly 200 peer-reviewed articles, book chapters and monographs, and coauthor of the Canadian Network for Mood and Anxiety Treatments (CANMAT) treatment guidelines for depression and for bipolar disorder.
Dr. Parikh has conducted clinical trials examining the combination of medication and psychotherapy for bipolar disorder and for depression, as well as pharmacotherapy trials in mood disorders. As medical director of the Mensante Corporation in Toronto, he helped create a novel Internet system for the recognition and management of mental disorders.Dr. Parikh is Medical Director of the National Network of Depression Centers (USA), serves as Secretary of the International Society of Affective Disorders and as Co-Head, Section of Affective Disorders, World Psychiatric Association. He has received a number of awards for his teaching, most recently the Association of Chairs of Psychiatry Award for Excellence in Education.
The focus of the 2019 Depression and Anxiety White Paper is on understanding and successfully coping with the most common mood and anxiety disorders.
You will benefit if you, or someone you care about, is affected by any of the following conditions:
Major depression
Persistent depressive disorder (dysthymia)
Bipolar disorder
Seasonal affective disorder (SAD)
Panic disorder
Generalized anxiety disorder (GAD)
Obsessive-compulsive disorder (OCD)
Post-traumatic stress disorder (PTSD)
Phobic disorders
While medication is often a significant part of treatment for mood or anxiety disorders, these conditions often have multiple causes and may respond best to a combination of treatments. The 2019 Depression and Anxiety White Paper raises your awareness of the issues involved and increases your confidence in the choices you make about your health.
Consider:
What causes mood disorders like depression and bipolar disorder, and what kind of chemical changes take place in the brain when people get depressed?
Does depression "run in the family"? What researchers have learned from studies of identical twins, fraternal twins and adopted children whose biological parents had a mood disorder. But genetics are not the only driving force for depression.
How do people with seasonal affective disorder (SAD) respond to the brain changes that accompany shorter days and lack of sunlight?
Find out which medications can worsen your depression and anxiety.
Learn the differences between generalized anxiety disorder and normal worry.
Test your own knowledge and see how accurately
you can answer the following questions:
TRUE OR FALSE: Depression is a normal part of aging.
TRUE OR FALSE: Bipolar disorder follows a predictable pattern, appearing in adolescence or young adulthood and progressing through symmetrical cycles of mania and depression.
TRUE OR FALSE: Although exercise can ease anxiety, you need at least an hour of vigorous aerobic movement to help jog yourself out of a negative feedback loop.
Although many Americans are convinced of their truth, each of the above statements is FALSE. The 2019 Depression and Anxiety White Paper explains why and gives you accurate, responsible information to replace any misinformation you've acquired.
Recent advances in our understanding of mood and anxiety disorders, as well as the development of newer, safer and more effective medications, are giving doctors new treatment options for their patients.
NEW DRUGS with better results and fewer side effects
Finding the best medications can take time, patience and an intimate knowledge of the full array of medications available today for the range of symptoms and causes surrounding depression and anxiety.
When you read the 2019 Depression and Anxiety White Paper you will learn how doctors zero in on the right medication for a given condition. Understand what options are available when the first (or second) drug your doctor tries doesn't provide relief… or causes unacceptable side effects. Learn about new drugs that show promise.
Look for it when you receive your White Paper …
Charts of the most commonly used medications for depression, bipolar disorder and anxiety. Generic and brand names, standard daily dosages, side effects and special risks are clearly spelled out.
Why depression aggravates chronic illness such as diabetes, arthritis, back problems and asthma.
Ways to ease anxiety without taking medication.
Groundbreaking research that's changing
the way doctors treat depression and anxiety
When you are depressed, reaching out for help can sometimes take more strength and energy than you've got. But it's important that you learn right now what the medical breakthroughs in this White Paper could mean for you.
Among this year's highlights:
Switching antidepressants: What to expect when you make the transition
When treatment doesnt work: For some patients, finding relief from depression can be arduous
The stress of heart palpitations: After heart-related problems, anxiety is the most common cause
Is ketamine right for you?: The drug may relieve depression, but unregulated clinics warrant caution
Self-care for the caregiver: Keys to lighten the emotional load
Can sugar make you depressed?
Bipolar guidelines advise against antidepressant use
Do antidepressants work by the placebo effect?
American Psychiatric Association: Anxiety levels are on the upswing
Heart palpitations: Is it anxiety-or something else?
Questions raised about a common PTSD treatment
Our popular "Ask the Doctor" column in the 2019 Depression and Anxiety White Paper features expert answers to the questions on YOUR mind now as you look for the best treatment for your mood disorders.
No matter how much you read or surf the internet-and no matter how well-informed your own doctor may be-what you discover in the White Paper will be truly new information you won't get any other way.
Use the 2019 Depression and Anxiety White Paper to understand your condition, speak knowledgeably with your own doctor and ensure that you get the best treatment available today.
Real help managing your moods on a daily basis
Mood disorders require understanding and the tools to cope with the ups and downs that are inevitable. More times than you can imagine, you will turn to the White Paper for answers, advice and perspective.
Recognizing when thoughts or behavior cross the line and are signs of obsessive-compulsive disorder.
How do you know if you have a medical condition like generalized anxiety disorder (GAD)?
Who is most likely to experience anxiety?
Many people are curious about alternative treatments for depression, either because they hope to avoid drug-related side effects or because they are reluctant to see a doctor for their depression. Learn how self-treatment can put people at risk, however.
Many mood disorders can be successfully treated with some combination of medication, psychotherapy and time. But researchers are always on the lookout for new options, and several are generating interest right now. Although these are far from being adopted as standard treatments, they may be intriguing future options.
Tested and proven drug-free ways to boost your mood
Prescription drugs aren't always the whole answer. There are steps you can take in your daily life to lift your spirits and improve your emotional outlook. Doctors want you to know what can and can't be achieved with:
EXERCISE. Can exercise really help relieve symptoms of mild depression? Doctors are looking beyond just the release of endorphins (hormones that reduce pain and can boost mood) to exercise's beneficial role.
LIGHT THERAPY. You don't have to be a doctor to know how a sunny day can brighten your mood. Just how does bright-light therapy compare with antidepressant medications for seasonal affective disorder (SAD) and mild to moderate depression? The 2019 Depression and Anxiety White Paper gives you scientifically supported ways to get the maximum benefit.

University of California, Berkeley,
School of Public Health
The White Papers are published by the University of California, Berkeley, School of Public Health. These publications are an outgrowth of the Schools commitment to help improve the health and wellness of our community of readers by publishing expert advice on prevention, diagnosis and treatment for a wide range of ailments and disorders. We provide trusted, authoritative health guidance from leading physicians and researchers at Americas top medical centers and hospitals.
The School of Public Health is
consistently rated among the best in the nation
The faculty, consistently noted as among the leading scholars in their respective fields, comprises approximately 150 investigators. Among our faculty are Institute of Medicine members, American Association for the Advancement of Science fellows, Fulbright fellows, and National Academy of Sciences members. The School enrolls approximately 575 graduate students a year, as well as educating about 425 undergraduate students through the upper-division public health major. The School's more than 15,000 graduates can be found working throughout the world, both in the public and private sectors.
The School of Public Health believes that everyone,
everywhere has the right to a healthy life
Your purchase of the Depression and Anxiety White Paper supports the School of Public Health faculty and students in their work to confront the major health challenges of our generation. A portion of every sale goes to funding scholarships. Your purchase will directly benefit your own health as well as those in your community.
You can count on the White Papers to bring you medical information that is trustworthy, impeccably researched and current.
Top Reasons to Order Right Now
1) It comes straight from a specialist with the University of Michigan Comprehensive Depression Center-the first ever multi-disciplinary center dedicated to research, education and treatment of depressive and bipolar illnesses.
2) Valuable resources-the 2019 Depression and Anxiety White Paper includes a listing of national support groups and health information organizations.
3) Your connection to medical specialists at the leading edge of mental health research will help you work with your doctor to achieve the best results.
4) Consumer friendly and easy to understand-simply, brilliantly and accurately, the White Paper translates scientific research into plain English that consumers can understand and easily use. A helpful glossary is included so you will never be confused by medical terminology.
5) The most accurate information-the 2019 Depression and Anxiety White Paper brings you up to speed on landmark research underway at leading medical centers. The choices you make should be based on what medical researchers now know.
6) Minimize drug side effects-the 2019 Depression and Anxiety White Paper includes detailed information on the array of medications used today, including special risks and precautions to consider.
7) Ensure state-of-the-art care-use your knowledge of the most effective treatments to advocate for yourself.
8) Explore your alternatives-you will have a specialist's perspective on alternative and self-care remedies, including herbal treatments, light therapy and exercise.
9) Risk-Free-your preview carries no risk and your absolute satisfaction is 100 percent guaranteed.
Our no-strings, can't lose, must-be-satisfied guarantee
You don't risk a penny to take a good, long look at the Depression and Anxiety White Paper. You must be 100 percent convinced that this is essential information you can't do without, or you may request a refund within your 30-day preview period.
Frankly, it's hard to imagine how anyone with depression would part with this information from leading medical experts. But you decide once you see it.
No risk. Nothing to lose but the depression that interferes with your daily activities.
Just click below to order the digital edition of the 2019 Depression and Anxiety White Paper for only $19.95. Order now and download the digital edition right away.

Your complete satisfaction is fully guaranteed. This urgent information belongs in your hands without another minute's delay.