Description
How to Protect Your Heart
We do not give much thought to our heart until something goes wrong with it.

If your physician has diagnosed you with coronary heart disease (CHD), also called coronary artery disease, you are not alone-more than 16 million Americans suffer from this health problem.

CHD is the No. 1 cause of death in both men and women in the United States. It can also lead to serious complications, including angina, heart attacks, heart failure and arrhythmias.

Recent advances are improving the quality and duration of life in those affected by CHD.

Many individuals have one or more risk factors that increase their chances of developing CHD. If you can identify and control your risk factors, you can help prevent the development of CHD and delay its progression. Sometimes, however, comprehensive preventive efforts are not sufficient, and CHD and its complications occur. Fortunately, you and your doctor can manage these disorders with a combination of lifestyle measures, medications, and revascularization procedures.

Act now to help prevent CHD and its complications by learning all you can about heart disease, to preserve your best health and active lifestyle for many years to come.

Where can you turn for the most accurate, reliable advice about your heart health and what to do if you have CHD?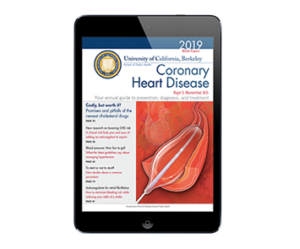 The 2019 Coronary Heart Disease White Paper
Your Annual Guide to Prevention, Diagnosis and Treatment
* * * * * * * * * *
The Expertise You Need in Layperson's Language
You Can Understand and Use
The more you know about managing your heart condition, the better prepared you will be to deal with its symptoms. Learning as much as possible about the causes, effects and treatments for heart disease is the first step toward living a full life without the pain and physical limitations that often accompany CHD.
Introducing Your Coronary Heart Disease Expert
Roger S. Blumenthal, M.D., F.A.C.C., F.A.H.A, is the Director of the Johns Hopkins Ciccarone Center for the Prevention of Cardiovascular Disease, a Professor of Medicine in the Division of Cardiology, and the inaugural Kenneth Jay Pollin Professor of Cardiology at the Johns Hopkins University School of Medicine. His principal clinical and research interests involve the optimal management of ischemic heart disease, noninvasive detection of coronary atherosclerosis, and strategies to determine who is at high-as well as very low-risk of future cardiovascular disease.
He is on the national spokesperson panel for the American Heart Association. An accomplished writer, Dr. Blumenthal has co-authored more than 500 original research articles, state-of-the-art reviews, and editorials dealing with many aspects of cardiovascular disease and atherosclerosis management. Dr. Blumenthal is on the editorial board of Circulation, Cardiology Today, the American Heart Journal, and the American College of Cardiology Extended Learning Center (ACCEL). He is the co-editor-in-chief of the textbook Preventive Cardiology: A Companion to Braunwalds Heart Disease and the ASPC Manual of Preventive Cardiology. He was chair of the American College of Cardiology (ACC) Committee on Prevention of Cardiovascular Disease for four years and is the Dyslipidemia section editor for the ACC education website acc.org.
Dr. Blumenthal served as co-chair of the American College of Cardiology/American Heart Association (ACC/AHA) Committee in charge of updating the Prevention Guidelines. He is a co-author of the 2018 ACC/AHA Cholesterol and Cardiovascular Risk Assessment Guidelines. He serves as co-chair of the committee developing the 2019 ACC/AHA Guidelines on Comprehensive Strategies for the Primary Prevention of Cardiovascular Disease.
In your copy of the 2019 Coronary Heart Disease White Paper, you'll receive a thorough overview of what the medical field knows about CHD: the causes, symptoms, diagnostic tests and procedures, treatment options and heart-smart lifestyle choices to help you maintain optimal wellness despite your CHD. You'll find detailed discussions of the most common heart conditions, including:
Angina (chest pain)
Heart attacks
Heart failure
Various types of arrhythmias, such as atrial fibrillation
Order Now… You'll SAVE 50 percent
Thanks to this special offer, you can get the digital edition of the 2019 Coronary Heart Disease White Paper for only $19.95. That's a savings of 50 percent off the regular $39.95 cover price. Order now and download the digital edition right away. And it comes complete with a money-back guarantee if you are not fully satisfied for any reason-you risk nothing!
The 2019 Coronary Heart Disease White Paper is designed with YOU in mind, to help you work with your doctor to ensure the best outcome. Use what you learn to help you:
Recognize and respond to symptoms and changes in your heart health as they occur.
Communicate effectively with your doctor, ask informed questions and understand the answers.
Make the right decisions, based on an understanding of the newest drugs, the latest surgical techniques and the most promising research.
Take control of your condition and act from scientifically sound knowledge rather than myths.
This is the kind of clear, comprehensive health information you need to take charge of your health. Use what you learn to discuss your concerns intelligently with your doctor and to make the best, most informed decisions possible.
In the 2019 Coronary Heart Disease White Paper you'll learn about:
PCSK9 inhibitors: The promises and pitfalls of the newest cholesterol drugs
New research on lowering CHD risk: A clinical trial examines of adding an anticoagulant to aspirin
Coronary stenting: New doubts are raised about a common procedure
Intensified cholesterol treatment: Guidelines recommend new ways to reduce heart attack and stroke risk
Controlling your blood pressure: What the latest guidelines say about managing hypertension
What you need to know now about
preventing and treating heart disease
You can order all this information NOW and start taking control of your health – all with a 100 percent money-back guarantee if you are not satisfied with your White Paper for any reason. Just return it within your 30-day preview period.
You'll also get access to information like this:
Non-statin medications can bring cholesterol levels lower when added to a statin
Treating depression may help reduce the risk of a repeat heart attack
Multivitamins and mineral supplements will not help you avoid a heart attack or other cardiovascular complications
Does exercise reduce your risk of heart disease, despite your family history?
Study finds that heart attack risk spikes in the days after a flu infection
Is adding an anticoagulant to CHD treatment worth the trade-off?
Women are still less likely than men to receive high-dose statin treatment after a heart attack
You'll find all this and more in the 2019 Coronary Heart Disease White Paper for the one low price of only $19.95 with a full money-back guarantee when refund is requested within the 30-day preview period.
A thorough overview of the condition, its causes and symptoms …
Treatment options, with our recommendations …
Groundbreaking new research and a review of the latest studies …
A glossary of medical terms you need to understand …
Lists of health information organizations and support groups that specialize in the disorder …
You'll get the digital and print editions of the 2019 Coronary Heart Disease White Paper for only $19.95 plus shipping!

University of California, Berkeley,
School of Public Health
The White Papers are published by the University of California, Berkeley, School of Public Health. These publications are an outgrowth of the Schools commitment to help improve the health and wellness of our community of readers by publishing expert advice on prevention, diagnosis and treatment for a wide range of ailments and disorders. We provide trusted, authoritative health guidance from leading physicians and researchers at Americas top medical centers and hospitals.
The School of Public Health is
consistently rated among the best in the nation
The faculty, consistently noted as among the leading scholars in their respective fields, comprises approximately 150 investigators. Among our faculty are Institute of Medicine members, American Association for the Advancement of Science fellows, Fulbright fellows, and National Academy of Sciences members. The School enrolls approximately 575 graduate students a year, as well as educating about 425 undergraduate students through the upper-division public health major. The School's more than 15,000 graduates can be found working throughout the world, both in the public and private sectors.
The School of Public Health believes that everyone,
everywhere has the right to a healthy life
Your purchase of the Coronary Heart Disease White Paper supports the School of Public Health faculty and students in their work to confront the major health challenges of our generation. A portion of every sale goes to funding scholarships. Your purchase will directly benefit your own health as well as those in your community.
You can count on the White Papers to bring you medical information that is trustworthy, impeccably researched and current.
Our no-strings, can't lose, must-be-satisfied guarantee
You don't risk a penny to take a good, long look at the 2019 Coronary Heart Disease White Paper. You must be 100 percent convinced that this is essential information you can't do without, or you may return it within your 30-day preview period.
Just click below to order the digital edition of the 2019 Coronary Heart Disease White Paper for $19.95.
Your complete satisfaction is fully guaranteed. This urgent information belongs in your hands without another minute's delay.