Description
How To Get Your Cholesterol Under Control
The latest statistics on cholesterol and heart disease in Americans have come out.
And they are frightening-to say the least:
More than 100 million Americans have high cholesterol or are being treated for it-and under current guidelines, millions more could be eligible for treatment with a statin drug.
About half of Americans have at least one of three major risk factors for heart disease-high cholesterol, high blood pressure, or the smoking habit.
More than 15 million Americans suffer from coronary artery disease-the No. 1 killer of both men and women in the U.S.
Some 660,000 Americans suffer a first heart attack each year.
Its true that more men than women have heart attacks, and they have them at a younger age. But after menopause, rates of heart disease in women increase two to three times-and their risk of a heart attack rises dramatically.
Thats the bad news.
But theres also good news …
More progress is being made in controlling cholesterol-and reducing the incidence of coronary artery disease-than at any time in U.S. history! In fact, there has been so much research in this area that major guidelines for managing cholesterol released only a few years ago have already been updated with new advice about certain cholesterol-lowering medications.
Even better: All the important advances in cholesterol research that you need to know about are collected-and condensed-in a just-published 64-page report from the University of California, Berkeley Wellness Letter …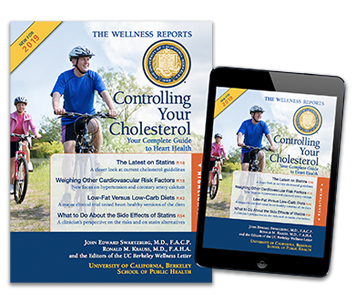 The 2019 Controlling Your Cholesterol
Wellness Report
Your Complete Guide to Heart Health
* * * * * * * * * *
With more than $2 billion a year spent in the U.S. on heart disease research, information on preventing and treating high blood pressure, high cholesterol, atherosclerosis, and related conditions is accumulating at a breakneck pace. And this creates a problem.
A health-minded individual looking for cholesterol advice online will rapidly suffer from "information overload"-a recent search on Google found 78 million Web pages referencing cholesterol.
Obviously, no one person can keep up with all the new developments in cholesterol research.
And unless youre an M.D. yourself, do you really have the background to separate the good science from the hype?
Thats where the University of California, Berkeley Wellness Reports can help save you time and money while improving your health.
Our editorial advisors, all M.D.s or Ph.D.s with impressive credentials in their specialties, conduct an exhaustive search of the medical literature on a particular topic-in this case, cholesterol.
They then carefully review the research to ensure that its based on scientifically sound methods . . . and to confirm the accuracy-and reliability-of the findings.
Coauthor Ronald M. Krauss, M.D., FAHA, a member of the editorial board of the UC Berkeley Wellness Letter, is Director of Atherosclerosis Research at Childrens Hospital Oakland Research Institute and is involved in ongoing research into the effects of diet, genetics, and drugs on blood cholesterol and coronary disease risk. He has been a member of the Adult Treatment Panel of the National Cholesterol Education Program and worked with the American Heart Association, having served as Chairman of the Nutrition Committee.
Next, our editors painstakingly convert medical jargon, formulas, and statistics into clear, plain English.
Youll find it fascinating reading-and useful. Our experts tell you exactly what you need to know about your cholesterol . . . plus, how to apply key research findings to improving and maintaining your own health.
Heres just a sampling of what youll discover in our 2019 Controlling Your Cholesterol Wellness Report:
Whats new in the 2018 updated guidelines about managing blood cholesterol from the American College of Cardiology and American Heart Association? And what do they mean for you?
Latest research about new cholesterol-lowering drugs: PCSK9 inhibitors.
It has been proposed that omega-3 fatty acids, found in fatty fish, have an array of cardiovascular benefits. But what about fish oil supplements? Heres what the latest research shows.
New guidelines about high blood pressure identify millions more Americans who have hypertension. Where do you fall in the new categories? Should you be doing more to lower your blood pressure?
What to do about adverse effects of statins, and what are the alternative drugs: Interview with Dr. Ronald M. Krauss.
Does alcohol really deserve its heart-healthy reputation? Recent studies raise questions.
Low-fat vs. low-carb diets: Findings from an important NIH-sponsored clinical trial.
Mediterranean vs. lacto-ovo-vegetarian diets. Another 2018 study compared their results.
Can cholesterol-lowering statin drugs reduce the risk of a heart attack for people who dont have cardiovascular disease? Compelling evidence from a large-scale study.
Is reducing LDL (bad) cholesterol really the key to managing cholesterol levels?
If you spend more than 8 hours a day sitting, your risk of dying increases-but you can significantly counteract that increased risk with moderate-intensity exercise each day.
How to use the online cardiovascular risk calculator to assess your risk for heart attack and stroke.
Should you fast before you have a cholesterol test? Not necessarily.
What if your coronary risk is borderline or intermediate? Ask your doctor about a coronary artery calcium scan. Research shows this is the best tool to help you and your doctor make a decision about starting statin therapy. And the latest cholesterol guidelines agree.
What role should niacin and other non-statin drugs play in lowering cholesterol? New recommendations.
For people who are overweight, modest weight loss-as little as 10 pounds-can result in big improvements for heart risk factors, according to a new study.
Even though saturated fats raise levels of LDL cholesterol, simply cutting your intake of foods high in saturated fats doesnt reduce your risk of a heart attack-you have to replace them with the right foods.
New studies on nuts continue to find heart benefits.
For decades, experts recommended limiting dietary cholesterol to 300 milligrams a day. But the latest dietary guidelines offer new advice.
This non-statin drug can lower LDL cholesterol by 15 to 25%-and new findings show that adding it to a statin can reduce your risk of a heart attack.
Are your triglyceride levels in line with the latest recommendations from the American Heart Association? If not, what you can do to lower your triglycerides.
You are 75 or older. Can statins have any benefit for preventing a first heart attack?
Should you consider low-dose aspirin for heart attack prevention? An online guide and app can help you decide.
How protective is a high level of HDL (good) cholesterol?
Eating less than 2 ounces of this "cholesterol buster" each day can lower LDL cholesterol, raise HDL, and aid in weight loss.
These 4 nutritional supplements are regularly promoted as reducing cholesterol. Most of them are ineffective or unproven … and one of them can actually harm you.
Are you taking Coenzyme Q-10 because you heard that it can reduce muscle pain associated with statins? Heres why you shouldn't bother.
The statin drug rosuvastatin (Crestor) is now available as a generic. How does it stack up against atorvastatin, the most widely-prescribed statin?
Do women benefit as much as men from taking a statin?
Statins can lower elevated triglycerides-but so can these three other types of medication, used alone or in combination with a statin.
And so much more.
Why high cholesterol kills
The underlying cause of coronary artery disease is "atherosclerosis"-a progressive buildup of fatty deposits called plaque within the walls of your arteries.
High cholesterol levels contribute to this plaque buildup: when the bloodstream carries more LDL cholesterol than can be used by your bodys cells, the excess amounts become embedded within the artery walls.
As the LDL accumulates, it combines with oxygen, triggering a reaction that causes plaque to form. Over time, the buildup of plaque stiffens and narrows the arteries, and eventually some plaques may limit the flow of blood.
When this occurs in arteries feeding the heart, it results in coronary artery disease. A plaque can also become unstable and rupture, and a blood clot then forms that may completely block blood flow to the heart-which can cause a heart attack.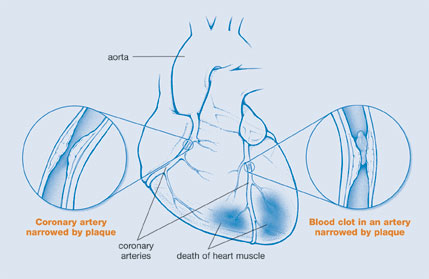 But that's not all! Order now, and you'll also receive this
FREE Digital Report as an instant download: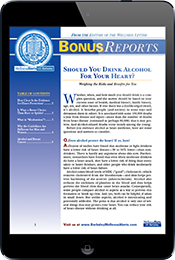 Should You Drink Alcohol for Your Heart?
How Clear is the Evidence for Heart Protection? The research is very clear, but there are still some unknowns.
Is Wine a Better Choice Than Beer or Spirits? Its almost certainly the alcohol thats protective, so it doesnt matter much which beverage you drink. Still, how you drink the beverage may be important.
What is "Moderation"? Though theres a standard definition, in fact, moderation varies according to your age and sex.
Why Its Different for Men and Women. Alcohol affects men and women differently.
Alcohol and Breast Cancer. Women have to weigh the potential heart benefits against this possible cancer risk. If the risk goes up 10%, does that mean you should not drink? Heres how to evaluate the risk for yourself.

University of California, Berkeley,
School of Public Health
The Wellness Reports are published by the University of California, Berkeley, School of Public Health. These publications are an outgrowth of the Schools commitment to help improve the health and wellness of our community of readers by publishing expert advice on prevention, diagnosis and treatment for a wide range of ailments and disorders. We provide trusted, authoritative health guidance from leading physicians and researchers at Americas top medical centers and hospitals.
The School of Public Health is
consistently rated among the best in the nation
The faculty, consistently noted as among the leading scholars in their respective fields, comprises approximately 150 investigators. Among our faculty are Institute of Medicine members, American Association for the Advancement of Science fellows, Fulbright fellows, and National Academy of Sciences members. The School enrolls approximately 575 graduate students a year, as well as educating about 425 undergraduate students through the upper-division public health major. The School's more than 15,000 graduates can be found working throughout the world, both in the public and private sectors.
The School of Public Health believes that everyone,
everywhere has the right to a healthy life
Your purchase of the 2019 Controlling Your Cholesterol Wellness Report supports the School of Public Health faculty and students in their work to confront the major health challenges of our generation. A portion of every sale goes to funding scholarships. Your purchase will directly benefit your own health as well as those in your community.
Lower your cholesterol, save your life
How important is it to get your cholesterol under control with the facts-and recommendations-in our 2019 Controlling Your Cholesterol Wellness Report?
In the landmark Heart Protection Study in 2002, men and women reduced their LDL cholesterol by an average of about 40 mg/dl-and slashed their risk of heart attacks by 38%.
More recently, a review of 27 major clinical trials involving 174,000 patients confirmed that the more LDL cholesterol levels are lowered in a population-through medications and diet-the more coronary risk is reduced.
Every 39-point decline in LDL cholesterol levels sustained over a 5-year period lowered the relative risk of heart attack by 21%-regardless of age, gender, or initial level of LDL cholesterol. Moreover, groups at different levels of coronary risk all benefited.
Read through the studies. Examine the facts, figures, numbers, and test results. Start putting the diet, exercise, and lifestyle recommendations into practice.
Im betting our report will be one of your most valuable-and important-health resources.
Thanks to this special offer, you can get both the digital and print editions of the 2019 Controlling Your Cholesterol Wellness Report now for only $14.95 plus shipping.
Order now and download the digital edition right away and we'll mail you the print version. This way you'll have access to the digital edition immediately and you'll own a printed edition to refer to whenever necessary.
Our no-strings, can't lose, must-be-satisfied guarantee
You don't risk a penny to take a good, long look at the 2019 Controlling Your Cholesterol Wellness Report. You must be 100 percent convinced this is essential information you can't do without, or you may return it within your 30-day preview period.
Frankly, it's hard to imagine how anyone would part with this information. But you decide once you see it.
You don't have to take our word for it.
Just click below to order BOTH the digital and print editions of the 2019 Controlling Your Cholesterol Wellness Report and your free gift, Should You Drink Alcohol for Your Heart? Keep the free digital gift even if you decide, for any reason, to return your Wellness Report.
Your complete satisfaction is fully guaranteed. This urgent information belongs in your hands without another minute's delay.