Description
Read this Special Health Report BEFORE you decide on your BPH treatment plan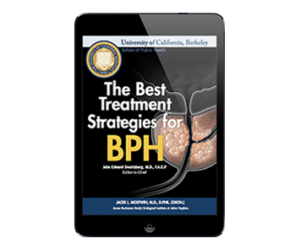 The Best Treatment Strategies for BPH
Presenting the latest thinking on
managing benign prostatic hyperplasia (BPH)…
plus answers to dozens of questions from patients like you
It's a sure thing that sooner or later, as a man ages, his prostate is going to make its presence known.
In fact, if you're over 50 and you haven't noticed symptoms of enlarged prostate (known medically as benign prostatic hyperplasia, or BPH), you-unfortunately-are likely to notice them sooner than you think.
By age seventy, 70 percent of all men have BPH, and 25 percent of them will require treatment.
Not a pretty picture. But the good news is that BPH is NOT prostate cancer. And just because you have BPH now does not mean that you are destined to develop cancer in the future.
If you're reading this letter right now, you probably have some concerns about your prostate health. You need the most reliable, up-to-date information on BPH so you can make the right treatment decisions.
That's why a top prostate disorders specialist has written The Best Treatment Strategies for BPH. This authoritative 70-page special health report contains vital information you won't find anywhere else – information you need so you can make the best-informed decisions possible about your future treatment.
BPH – NOT a "One Size Fits All" Diagnosis
Do any of these symptoms sound familiar?
Frequent and urgent need to urinate both day and night
Difficulty starting urination
Weak urine flow
Stopping and starting urine flow while urinating
Feeling of being unable to completely empty the bladder
Sexual dysfunction
If they do, The Best Treatment Strategies for BPH can help. We take you step-by-step through the many issues that confront a man with BPH. Armed with the information in this guide, you'll be able to meet with your own physician and make the right decisions in your quest for the best possible outcome. For example, you'll learn:
How BPH affects the urinary system, bladder, and prostate
Do medications taken to shrink the size of the prostate and ease urination, also prevent prostate cancer or do they just prevent men from knowing they have prostate cancer?
Why ignoring your BPH symptoms can have disastrous consequences
The difference between obstructive and irritative BPH symptoms
Your prostate symptom score – a questionnaire that helps you calculate whether you need treatment for BPH
Laboratory tests you may need to confirm your BPH diagnosis-plus a discussion of special diagnostic tests, including uroflowmetry, ultrasonography, filling cystometry, and cystoscopy
Lifestyle measures you can try to help relieve BPH symptoms
Watchful waiting-is it the right choice for you?
Can herbal supplements help an enlarged prostate?
Do you have a weight problem? Why overweight men are more likely to develop BPH and what you can do
Should you try saw palmetto? What the studies show
Is it a prostate problem or a bladder problem? How to tell the difference
What you should know about retrograde ejaculation
How alpha-blockers like terazosin (Hytrin) and tamsulosin (Flomax) reduce the symptoms of BPH
Weighing the side effects of alpha-blockers
The pros and cons of 5-alpha-reductase inhibiting medications such as dutasteride (Avodart) and finasteride (Proscar) for treating BPH
Should you try combination therapy – taking an alpha-blocker and a 5-alpha-reductase inhibitor at the same time?
Can erectile dysfunction drugs help improve BPH symptoms? What the research shows
Can certain BPH medications increase the risk for depression?
Considering Surgery?
Read The Best Treatment Strategies for BPH First!
The Best Treatment Strategies for BPHdraws on the extensive experience of leading prostate specialists-specialists who treat BPH regularly and who understand the concerns of patients like you.
One such doctor is Jacek L. Mostwin, M.D., D. PHIL. (OXON). In his special health report, Dr. Mostwin also discusses your surgical options when medications no longer work to relieve the symptoms of BPH. Here are just a few of the issues he explores in-depth:
What are the advantages and disadvantages of minimally-invasive therapies, such as TUMT (transurethral microwave therapy), the prostatic urethral lift (UroLift), and water vapor thermotherapy (Rezum)?
Does TUMT work?
Why is TUNA (transurethral needle ablation) no longer recommended?
What should you expect when TURP (transurethral resection of the prostate) is performed?
What are the possible complications from a TURP?
What if TURP can't be performed safely? Who is the best candidate for an open prostatectomy?
Are there any other alternative surgical approaches for BPH?
Whats the difference between TURP and transurethral vaporization of the prostate (TUVP)?
What laser ablation procedures are offered for BPH?
How do you ultimately decide what procedure to choose?
REAL Questions from REAL Patients Like You
The Best Treatment Strategies for BPH answers these and other important questions – questions from patients searching for practical, no-nonsense advice on living with BPH. For example:
Question: I'm taking 10 mg of (terazosin) Hytrin and just added saw palmetto, but I still have to urinate at least five times a night. What else can I do?
Question: I drink coffee several times a day. Could the caffeine be making me urinate during the night or is it BPH?
Question: I've heard about a "drug cocktail" for treating BPH. What is it and could it help me?
Question: I have BPH and also take sildenafil (Viagra). Are there any drug interactions or side effects I should know about?
Question: Why can't I just have a stent placed in my urethra to keep it open instead of taking BPH drugs?
Question: Could my sexual problems be a result of the tamsulosin (Flomax) I take for BPH and can they be reversed?
Question: Could BPH be triggering my bladder problems?
Question: I take zinc, pyridoxine HCL, vitamin A, vitamin D, vitamin E, pumpkin seed concentrate, flaxseed oil, and soy for my BPH. Is there any evidence that these supplements reduce the symptoms of BPH?
Question: Which medication is more effective: terazosin (Hytrin) or tamsulosin (Flomax)?
Question: I had my first TURP five years ago and now my symptoms are back. Should I have a second TURP?
Question: Is there any connection between bladder stones and an enlarged prostate?

University of California, Berkeley,
School of Public Health
The Best Treatment Strategies for BPH is published by the University of California, Berkeley, School of Public Health. This publication is part of an outgrowth of the Schools commitment to help improve the health and wellness of our community of readers by publishing expert advice on prevention, diagnosis and treatment for a wide range of ailments and disorders. We provide trusted, authoritative health guidance from leading physicians and researchers at Americas top medical centers and hospitals.
The School of Public Health is
consistently rated among the best in the nation
The School's faculty members are leading scholars in their respective fields. Many of them are members of the prestigious National Academies of Medicine and Sciences. The School enrolls approximately 700 graduate students a year, and educates about 425 undergraduate students through the upper-division public health major. The School's more than 15,000 graduates can be found working throughout the world, both in the public and private sectors.
The School of Public Health believes that everyone,
everywhere has the right to a healthy life
Your purchase of The Best Treatment Strategies for BPH supports the School of Public Health faculty and students in their work to confront the major health challenges of our generation. A portion of every sale goes to funding scholarships. Your purchase will directly benefit your own health as well as those in your community.
The Best Treatment Strategies for BPH is available to you instantly in a digital PDF download. Simply click the order button below, and in a few moments you can begin reading this important report!
Still not sure you'll benefit from this Special Health Report? No problem.
Our No-Strings, Can't Lose, Must-Be-Satisfied Guarantee!
The Best Treatment Strategies for BPH comes with a risk-free guarantee of satisfaction: if you're not satisfied with your digital report for any reason, simply contact Customer Service within 30 days for a prompt refund of your full purchase price of $19.95. So you risk nothing. Don't hesitate – arm yourself with the facts about BPH. Place your risk-free order today.
Arm yourself with the facts about BPH. Place your risk-free order today.