Description
Sunshine Vitamin or Miracle Vitamin?
Our comprehensive report looks at the latest research and current thinking on the Vitamin D revolution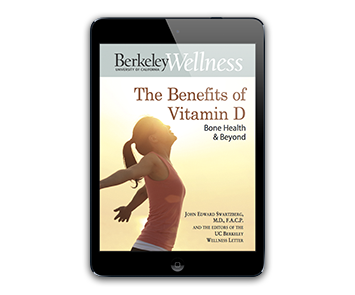 The Benefits of Vitamin D:
Bone Health & Beyond
Written by John Edward Swartzberg, M.D., F.A.C.P.,
and the editors of the UC Berkeley Wellness Letter
Interest in vitamin D has increased tremendously over the past decade. Some experts have gone so far as to proclaim that the world is currently in the midst of a vitamin D revolution.
Indeed, the body of research on vitamin D is enormous, and more studies are being published every month-sometimes confirming known benefits or suggesting new ones, sometimes finding no benefits, and in rare cases suggesting potential harms.
And while there is no question that vitamin D is an essential nutrient-and its role in bone health is well established-there are still so many unanswered questions:
Can vitamin D help prevent diseases other than osteoporosis and other bone diseases?
What is the impact of the controversial Institute of Medicine (IOM) report on recommended intakes of calcium and vitamin D?
How common is vitamin D deficiency in children and adults?
How does vitamin D deficiency compare to vitamin D insufficiency?
What is the optimal intake of vitamin D for overall good health?
Should you have your blood level of vitamin D measured even if you have no symptoms that would suggest a deficiency?
Should you take vitamin D supplements to raise blood levels considered to be too low? If so, which formulas are best?
How much vitamin D intake is too much?
Should more foods be fortified with vitamin D?
To help dispel some of the confusion and put the vitamin D debate into perspective, we asked John Edward Swartzberg, M.D., F.A.C.P., and the editors of the UC Berkeley Wellness Letter to share their insights in a provocative DIGITAL Special Report, The Benefits of Vitamin D: Bone Health & Beyond.
You may already know Dr. Swartzberg from the UC Berkeley Wellness Letter, where he is Chair of the Editorial Board and writes a regular column. Dr. Swartzberg is also Clinical Professor of Medicine in the School of Public Health at the University of California, Berkeley.
How to Make the Most of the Factors
That Affect Your Vitamin D Metabolism
The biochemistry of vitamin D is complex-even the terminology can be mind numbing. That's why Dr. Swartzberg begins The Benefits of Vitamin D with a concise look at vitamin D basics-its role in bone health, regulation of cell growth, immune function and reduction of inflammation.
In easy-to-understand layman's language, the Report explores key issues, including: the impact of skin color, age, season and time of day in your skin's production of vitamin D… how your genetic makeup influences blood levels of vitamin D… calciferol, ergocalciferol and other terms related to vitamin D. You'll learn about:
Dietary sources of vitamin D, including new D-enhanced mushrooms
The benefits and dangers of high loading doses of vitamin D supplements
A comparison of vitamin D3 and vitamin D2 found in supplements
Should you be tested for your vitamin D blood level-and if you are, what's the cut off for vitamin D deficiency
What you should know before you are tested-for example, how does seasonal variability affect results?
Symptoms and treatment of vitamin D deficiency
Pregnancy, breastfeeding and vitamin D-what new moms should know
Vitamin D and Disease: What the Research Shows
Can high doses of vitamin D prevent, treat or delay a wide variety of conditions and diseases affecting virtually every part of the body? This question gets to the heart of the vitamin D debate.
On one side of the debate are researchers who for years have been advocating higher intakes and blood levels of vitamin D and who feel that the latest IOM recommendations fell short. On the other side are those who fear that the vitamin D bandwagon has gotten far ahead of the research and who worry that it may crash, as did the bandwagons for antioxidant supplements when long-awaited clinical trials failed to find benefit and sometimes even suggested harm.
In this key chapter, the Report provides an in-depth look at current research and scientific evidence on vitamin D. The editors sift through hundreds of studies and articles in leading scientific journals to bring you cutting-edge insights on the relationship between vitamin D and many of the diseases that affect older adults. We encourage you to read this section carefully and share this valuable information with friends and family affected by these conditions:
Arthritis
Falls
Breast cancer
Heart disease
Colorectal cancer
Hypertension
Prostate cancer
Skin cancer
Multiple sclerosis
Immune function
COPD
Obesity
Cognitive function and dementia
Osteoporosis and fractures
COPD
Dental health
Parkinson's disease
Depression
Psoriasis
Diabetes
Drawing on analysis and guidance from the landmark Institute of Medicine report, as well as leading vitamin D researchers and health organizations-the Endocrine Society, the Canadian Cancer Society, the National Osteoporosis Society and others-The Benefits of Vitamin D: Bone Health & Beyond consolidates the research, providing page after page of provocative argument and debate.

University of California, Berkeley,
School of Public Health
The Benefits of Vitamin D: Bone Health & Beyond is published by the University of California, Berkeley, School of Public Health. This publication and others like it are an outgrowth of the School's commitment to help improve the health and wellness of our community of readers by publishing expert advice on prevention, diagnosis and treatment for a wide range of ailments and disorders. We provide trusted, authoritative health guidance from leading physicians and researchers at America's top medical centers and hospitals.
The School of Public Health is
consistently rated among the best in the nation
The faculty, consistently noted as among the leading scholars in their respective fields, comprises approximately 150 investigators. Among our faculty are Institute of Medicine members, American Association for the Advancement of Science fellows, Fulbright fellows, and National Academy of Sciences members. The School enrolls approximately 575 graduate students a year, as well as educating about 425 undergraduate students through the upper-division public health major. The School's more than 15,000 graduates can be found working throughout the world, both in the public and private sectors.
The School of Public Health believes that everyone,
everywhere has the right to a healthy life
Your purchase of the The Benefits of Vitamin D: Bone Health & Beyond supports the School of Public Health faculty and students in their work to confront the major health challenges of our generation. A portion of every sale goes to funding scholarships. Your purchase will directly benefit your own health as well as those in your community.
You can count on The School of Public Health to bring you medical information that is trustworthy, impeccably researched and current.
Our no-strings, can't lose, must-be-satisfied guarantee
The Benefits of Vitamin D: Bone Health & Beyond comes with a risk-free guarantee of satisfaction: if you're not satisfied for any reason, simply contact Customer Service for a prompt refund of your full purchase price of $19.95. So you risk nothing.