Description
How to Care for an Aging Spine
Four out of five adults experience significant low back pain at some point in their lives. And, as our population continues to age, osteoporosis becomes an increasingly widespread problem.
The 2020 Back Pain and Osteoporosis White Paper is designed to keep you fully informed and up to date on new developments in the diagnosis and treatment of back pain and osteoporosis.
Medical experts tackle all types of back problems, ranging from simple muscle spasms to disc herniation, spinal stenosis and collapsed vertebral bodies. They also address osteoporosis—a common cause of spine and hip fractures—and more.
You will explore the causes and diagnostic techniques, learn about preventive steps that can spare you from considerable pain, and examine the latest treatments, including drug and surgical options. This White Paper will help guide you in working with your doctor to make informed medical decisions about back pain and osteoporosis.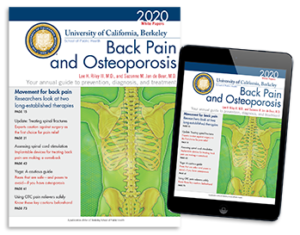 The 2020 Back Pain
and Osteoporosis White Paper
Your Guide to Prevention, Diagnosis, and Treatment
* * * * * * * * * *
The Expertise You Require in the Layperson's Language
You Can Understand and Apply
The 2020 Back Pain and Osteoporosis White Paper gives you news you can use every day, distilling complex medical research and scientific breakthroughs into clear, plain English. You will also find practical advice you can act on right away in your quest for better back pain relief or to help prevent osteoporosis before it limits your mobility and diminishes your quality of life.
Introducing Your Back Pain and Osteoporosis Experts
Lee H. Riley III, M.D., is the Zadek Family Professor of Orthopaedic Surgery and Professor of Orthopaedic Surgery and Neurosurgery at Johns Hopkins University School of Medicine. He is Executive Vice-Chairman of the Department of Orthopaedic Surgery and Chief Medical Officer of the Musculoskeletal Service Line.
Dr. Riley received his M.D. from the Johns Hopkins University School of Medicine. He also completed his residency in orthopaedic surgery at Johns Hopkins, and he was a fellow in spine surgery at the University of Miami School of Medicine.
Dr. Riley is a member and active participant in many national and international societies, including the Cervical Spine Research Society, the Scoliosis Research Society, the North American Spine Society, the American Orthopaedic Association, and the American Academy of Orthopaedic Surgeons. He is a recognized expert in spine surgery and is invited to speak on spine topics worldwide.
Suzanne M. Jan de Beur, M.D., is Principal Investigator in the Suzanne Jan de Beur Lab and Associate Professor of Medicine at the Johns Hopkins University School of Medicine. She is also Director of the Johns Hopkins Bayview Clinical Research Unit in the Johns Hopkins Institute for Clinical and Translational Research.
Dr. Jan de Beur received her undergraduate degree from Cornell University and her M.D. from Weill Medical College of Cornell University in New York City. She trained in internal medicine on the Osler Medical Service at the Johns Hopkins Hospital and completed subspecialty training in endocrinology and metabolism at Johns Hopkins University School of Medicine.
Dr. Jan de Beur is an internationally recognized expert and leader in osteoporosis and metabolic bone disease. She is also the associate editor for the Primer on the Metabolic Bone Diseases and Disorders of Mineral Metabolism and JBMR Plus. She has authored numerous articles and book chapters, and her work has been published in leading journals, including The New England Journal of Medicine, the Journal of the American Medical Association, the Journal of Clinical Investigation, and The Lancet.
The 2020 Back Pain and Osteoporosis White Paper outlines the many different causes of back pain, including:
Sprains
Strains
Spasms
Herniated discs
Spinal deformities
Vertebral compression fractures
Spinal stenosis
…and more.
Learn the causes of these conditions, plus the methods used to diagnose back pain, and preventive steps you can take to spare yourself considerable neck and back pain.
You'll also discover the latest news about the most effective treatments for back and neck pain, including the latest pain medications.
Your White Paper will also include details on your best surgical options if less invasive treatment options aren't giving you the kind of back pain relief you need.
For people who have sciatica—searing or stabbing pain radiating from the back into the buttocks and legs—driving a car can be especially uncomfortable and painful. You'll find measures you can take that might help.
Learn to avoid back pain. In addition to correct posture and exercise, many other aspects of your daily life influence the health of your back. Some people simply need to improve the techniques they use to perform everyday activities—lifting heavy objects, playing sports, or even sitting down and getting up from a chair. Other people will need to avoid certain activities altogether. Get advice from the experts.
If you have low back pain, find out why drugs should take a back seat to other types of low back pain treatment. This is especially true if your doctor subscribes to recommendations from the professional groups discussed in the pages of the White Paper.
In the second section of the 2020 Back Pain and Osteoporosis White Paper, you'll get a thorough overview of osteoporosis, a common cause of hip and spine fractures.
Osteoporosis prevention relies on a three-pronged approach: Exercise, proper nutrition, and-when appropriate-medication. Get advice you can follow.
More than 95 percent of the 300,000 hip fractures–a break in the top of the thighbone (the femur) below the hip joint–that occur in Americans age 65 and older are a result of a fall, typically from standing height. Half of those people will never regain their previous level of function, leaving many unable to perform activities of daily living, such as dressing themselves. Find out if you're at risk.
Preventing Future Falls. Along with bone-strengthening medications, preventing falls is a crucial component of fracture prevention in people with osteoporosis. Find out about the steps you can take to reduce the likelihood of falling.
A key factor in falls is poor balance, which tends to become more and more of a problem as people age. Yoga has been shown to improve balance and can be a good exercise option for people with osteoporosis. Learn which poses are safe and which to avoid.
This is just some of what else you'll read:
Movement for back pain: Researchers look at 2 long-established therapies
Update for treating spinal fractures: Experts advise against surgery as the first choice for pain relief
Assessing spinal cord stimulation: Implantable devices for treating back pain
Yoga: A cautious guide for people with osteoporosis
Using OTC pain relievers safely: Know key warnings beforehand
The 2020 Back Pain and Osteoporosis White Paper is designed to help you ensure the best outcome. Use what you learn to help you:
Recognize and respond to symptoms and changes as they occur.
Communicate effectively with your doctor, ask informed questions and understand the answers.
Make the most informed decisions, based on an understanding of the newest drugs, the latest surgical techniques, the most promising research.
Take control over your condition and act from knowledge, rather than fear.
In the 2020 Back Pain and Osteoporosis White Paper, you'll also find:
Improving recovery after surgery for spinal stenosis
Got a tablet habit? It may account for that aching neck
A surprising risk factor for fractures in older adults
How smoking takes a toll on your bones, and advice to help you quit
The benefits and risks of long-term anti-osteoporosis treatment
PLUS, we've updated our popular "Ask the Doctor" columns with new questions to help you find the best treatments for your back pain or osteoporosis.
All this essential health information on back pain relief and osteoporosis is available to order right now, so you can use what you learn in your quest for better health and mobility.

University of California, Berkeley,
School of Public Health
The White Papers are published by the University of California, Berkeley, School of Public Health. These publications are an outgrowth of the School's commitment to help improve the health and wellness of our community of readers by publishing expert advice on the prevention, diagnosis and treatment for a wide range of ailments and disorders. We provide trusted, authoritative health guidance from leading physicians and researchers at America's top medical centers and hospitals.
The School of Public Health is
consistently rated among the best in the nation
The School's faculty members are leading scholars in their respective fields. Many of them are members of the prestigious National Academies of Medicine and Sciences. The School enrolls approximately 700 graduate students a year, and educates about 425 undergraduate students through the upper-division public health major. The School's more than 15,000 graduates can be found working throughout the world, both in the public and private sectors.
The School of Public Health believes that everyone,
everywhere, has the right to a healthy life
Your purchase of the Back Pain and Osteoporosis White Paper supports the School of Public Health faculty and students in their work to confront the major health challenges of our generation. A portion of every sale goes to funding scholarships. Your purchase will directly benefit your own health as well as the health of those in your community.
You can count on the White Papers to bring you medical information that is trustworthy, impeccably researched and current.
The 2020 Back Pain and Osteoporosis White Paper provides:
A thorough overview of each condition, its causes and symptoms…
Treatment options, with expert recommendations…
Groundbreaking new research and a review of the latest studies…
A glossary of medical terms you need to understand…
Lists of health information organizations and support groups that specialize in the disorders…
…and much more.
Order now, and you'll also receive this
FREE Health Tips as an instant download: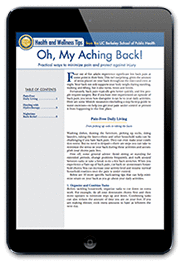 FREE Back Pain and Osteoporosis Health Tips:
Oh, My Aching Back
Pain-Free Daily Living
10 back-saving tips that can help minimize strain on your back as you go about your daily activities.
Healing with Hydrotherapy: Strengthening muscles that support your lower back is an effective way to prevent low back pain and injury. Find the best water exercises for a healthy back.
Nighttime Back Relief: What are the best ways to cope with nighttime back pain? These simple changes to your nighttime routine could help reduce the pain you experience at night.
Our no-strings, can't lose, must-be-satisfied guarantee
You must be 100 percent convinced the Back Pain and Osteoporosis White Paper contains essential information, or you may return it within your 30-day preview period.
No risk. Nothing to lose but the aches and pains that interfere with your daily activities and the stiff joints that keep you from living the active, unrestricted life you deserve.
Just click below to order BOTH the digital and print editions of the 2020 Back Pain and Osteoporosis White Paper for only $19.95 plus shipping. As soon as you place your order you can download your digital edition of the White Paper and your Health Tips, Oh, My Aching Back. Keep Oh, My Aching Back even if you decide, for any reason, to return your White Paper.
Your complete satisfaction is fully guaranteed.