Description
The Latest Treatments
To Help You Manage Your Arthritis
If you suffer from joint pain and stiffness, you are not alone. By age 50, almost every man and woman has occasionally experienced these symptoms. But if joint pain and stiffness persist, it could mean that you have arthritis.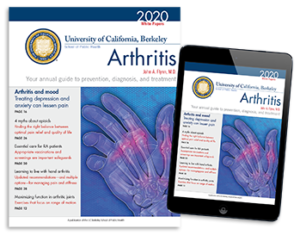 The 2020 Arthritis White Paper
When you have arthritis, each day brings new challenges. That's just part of what makes it such a difficult disease to manage.
The way that you feel at any given time is going to be affected by your age, daily activities (including exercise) and other health issues—as well as by any prescribed medications or over-the-counter remedies you're using.
Add to this the fact that there are more than 100 different conditions that fall under the heading of "Arthritis," and you can see why it's so difficult to get an accurate diagnosis, fine-tune your drug regimen and make sure you're getting the latest and best treatment as your condition—and your options—change.
If you or someone you care about has arthritis, obtaining accurate information is an important part of the treatment plan. Contrary to advertisements for miracle cures and instant pain relievers, arthritis treatment often involves trial and error to find the best combination of therapies and medications to relieve your symptoms.
One thing that people who successfully manage their arthritis have in common:
They keep themselves fully informed and updated about new developments in the diagnosis and treatment of arthritis. They use this knowledge to work closely with their doctors to conquer pain, minimize restrictions and maintain a good quality of life.
The more you know about arthritis, the more you will understand the rationale behind the treatment, and the better prepared you will be to participate in your own arthritis management.
That's why the University of California, Berkeley, School of Public Health has engaged one of America's leading arthritis experts to bring you the 2020 Arthritis White Paper. You can count on us to provide you with medical information that is trustworthy, impeccably researched and current.
Introducing Your Arthritis Expert
John A. Flynn, M.D., M.B.A., M.Ed., F.A.C.P., F.A.C.R., is Professor of Medicine, Chief Physician, and Dean for Clinical Affairs at University of Chicago Medicine. He was formerly Professor of Medicine at the Johns Hopkins University School of Medicine, Associate Dean and Executive Director of the Clinical Practice Association, and Vice President of the Office of Johns Hopkins Physicians. He was the Medical Director of the Spondyloarthritis Program and a founding member of the Johns Hopkins Primary Care Consortium.
Dr. Flynn received his M.D. from the University of Missouri-Columbia and completed his internship and residency at the Johns Hopkins University School of Medicine, followed by a fellowship in rheumatology. Dr. Flynn also completed his M.B.A. at Johns Hopkins University and his M.Ed. at the University of Cincinnati. He is board-certified in internal medicine and rheumatology and is a fellow with the American College of Rheumatology and the American College of Physicians. Dr. Flynn is a co-editor of the Oxford American Handbook of Clinical Medicine and Mosby's Guide to Physical Examination.
Thanks to this special offer, you can get BOTH the digital and print editions of the 2020 Arthritis White Paper for only $14.95 plus shipping. Order now and download the digital edition right away AND we'll mail you the print version.
This way you'll have access to the digital edition immediately and you'll own a printed edition to refer to whenever necessary. And it comes complete with a money-back guarantee if you are not fully satisfied for any reason—you risk nothing!
What can you do to help your joints before it's too late?
Among this year's highlights:
Arthritis and mood: Treating depression and anxiety can lessen pain
Essential care of RA patients: Appropriate vaccinations and screenings
Learning to live with hand arthritis: Updated recommendations and options
Maximizing function in arthritic joints: Exercises that focus on range of motion
And that's just the beginning! The 2020 Arthritis White Paper lets you closely monitor the latest research and understand clearly what it can mean for you.
Arthritis is one of the most common chronic health problems in America, estimated to affect more than 1 in 4 adults.
If even one of the following articles describes your situation in any way, you owe yourself a risk-free look at the 2020 Arthritis White Paper.
Three myths about opioids and pain management
Risk factors for infection from joint replacement surgery
Caution advised on using cannabidiol (CBD) for arthritis
Signs of rheumatoid arthritis may appear two years before a diagnosis
Lupus is linked to an imbalance in gut bacteria
Complications can arise from prolonged treatment of Lyme disease
Arthritis and your long-term well-being
Arthritis is a long-term condition that needs to be skillfully managed over time. But the good news is that we are learning more and more about arthritis and how to manage the condition. The 2020 Arthritis White Paper offers new hope even to those of you who have suffered with arthritis for many years. Learn how to control your symptoms, and perhaps even slow the progression of the disease. And find out what side effects related to your arthritis medication you need to watch out for.
Highlights of the 2020 Arthritis White Paper also include:
Exercises for improving range of motion in your arthritic joints
Depression, anxiety, and arthritis: Treating psychological disorders could help lessen physical pain
Learning to live with hand arthritis
Essential care for people with rheumatoid arthritis: Don't miss out on important 
immunizations and screenings
But that's not all! Order now, and you'll also receive this
FREE Health Tips as an instant download: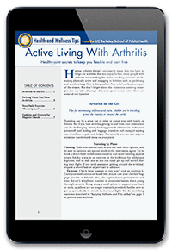 FREE Arthritis Health Tips:
Active Living with Arthritis
Healthy-joint secrets to keep you flexible and pain free
Active Living with Arthritis is our gift to you just for ordering the 2020 Arthritis White Paper. It's packed with smart, simple arthritis pain relief tips that don't require a prescription, don't have harmful side effects and can be safely and easily incorporated into your arthritis treatment plan with noticeable results. You'll discover:
Arthritis on the Go


Tips for minimizing stiffness and pain, whether you're traveling across the country or around the world.
Driving When You Have Arthritis


Adaptive devices and modifications that can make driving easier-and safer.
Gadgets and Gizmos for Happier Hands


20 gadgets and gizmos that take the pain and struggle out of buttons, cereal boxes, car door handles and other daily hurdles.

University of California, Berkeley,
School of Public Health
The White Papers are published by the University of California, Berkeley, School of Public Health. These publications are an outgrowth of the School's commitment to help improve the health and wellness of our community of readers by publishing expert advice on the prevention, diagnosis and treatment for a wide range of ailments and disorders. We provide trusted, authoritative health guidance from leading physicians and researchers at America's top medical centers and hospitals.
The School of Public Health is
consistently rated among the best in the nation
The School's faculty members are leading scholars in their respective fields. Many of them are members of the prestigious National Academies of Medicine and Sciences. The School enrolls approximately 700 graduate students a year, and educates about 425 undergraduate students through the upper-division public health major. The School's more than 15,000 graduates can be found working throughout the world, both in the public and private sectors.
The School of Public Health believes that everyone,
everywhere, has the right to a healthy life
Your purchase of the Arthritis White Paper supports the School of Public Health faculty and students in their work to confront the major health challenges of our generation. All profits earned by the University of California, Berkeley, from the sale of the White Papers fund scholarships, fellowships, and student grants, plus resources for student organizations and activities at the School of Public Health. Your purchase will directly benefit your health as well as the health of the greater community.
You can count on the White Papers to bring you medical information that is trustworthy, impeccably researched and current.
What's true? What's wishful thinking?
What's just advertising hoopla and hype?
How much do you really know about controlling arthritis symptoms? So much of what's written in the popular press or advertised on radio, TV, and the internet has very little to do with what doctors know works best.
TRUE OR FALSE: You've heard that distance runners are destined to develop osteoarthritis. Will years of pounding really wear out an athletic person's joints?
TRUE OR FALSE: A naturally occurring compound called SAMe, found in all living cells, offers us an important new tool for controlling arthritis symptoms.
TRUE OR FALSE: Since rheumatoid arthritis "runs in the family," it means that your children run a high risk of developing it if you have the genetic marker for the disease.
TRUE OR FALSE: Gout, often called "the disease of kings," develops in everyone whose diet is rich in purines, which are found in alcohol and certain meats.
Surprise! The answer to each question is "FALSE." Find out the truth, with the research behind it, when you order the 2020 Arthritis White Paper.
Our no-strings, can't lose, must-be-satisfied guarantee
You don't risk a penny to take a good, long look at the 2020 Arthritis White Paper. You must be 100 percent convinced this is essential information you can't do without, or you may return it within your 30-day preview period.
Frankly, it's hard to imagine how anyone with arthritis would part with this information from leading medical experts. But you decide once you see it.
No risk. Nothing to lose but the aches and pains that interfere with your daily activities and the stiff joints that keep you from living the active, unrestricted life you deserve.
You don't have to take my word for it.
Just click below to order BOTH the digital and print editions of the 2020 Arthritis White Paper for only$14.95 plus shipping. As soon as you place your order you can download your digital edition of the White Paper and your free gift, Active Living with Arthritis. Keep the free gift even if you decide, for any reason, to return your White Paper.
Your complete satisfaction is fully guaranteed. This urgent information belongs in your hands without another minute's delay.