Description
Memory Loss & 10 Warning Signs of Alzheimer's and Dementia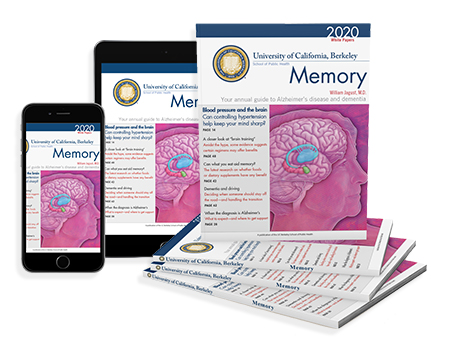 Published by the University of California, Berkeley, School of Public Health. Read More…

University of California, Berkeley,
School of Public Health
The Medical Guidebooks are published by the University of California, Berkeley, School of Public Health. These publications are an outgrowth of the School's commitment to help improve the health and wellness of our community of readers by publishing expert advice on the prevention, diagnosis and treatment for a wide range of ailments and disorders. We provide trusted, authoritative health guidance from leading physicians and researchers at America's top medical centers and hospitals.
The School of Public Health is
consistently rated among the best in the nation
The School's faculty members are leading scholars in their respective fields. Many of them are members of the prestigious National Academies of Medicine and Sciences. The School enrolls approximately 700 graduate students a year, and educates about 425 undergraduate students through the upper-division public health major. The School's more than 15,000 graduates can be found working throughout the world, both in the public and private sectors.
Read More…
The School of Public Health believes that everyone,
everywhere, has the right to a healthy life
Your purchase of the Memory Medical Guidebook supports the School of Public Health faculty and students in their work to confront the major health challenges of our generation. A portion of every sale goes to funding scholarships. Your purchase will directly benefit your own health as well as the health of those in your community.
You can count on the Medical Guidebooks to bring you medical information that is trustworthy, impeccably researched and current.
Keep your mind sharp
and clear well into your 80s and beyond
Whether it's you … your spouse … your mother … your father … an aunt or uncle … grandparent … or a best friend … everyone faces the possibility of diminishing memory, loss of optimal brain function and slowed mental capacity with age.
By 2050, it is projected that up to 16 million people will have Alzheimer's disease.
But now, not everyone must succumb to memory loss, dementia and other age-related losses of brain function.
Every day, scientists are uncovering evidence that diminished memory and mental capacity are NOT inevitable for everyone. Learn how nutrition and lifestyle habits can help improve the odds of warding off cognitive decline.
The changes in mental functioning listed below may be early warning signs of Alzheimer's disease, according to the Alzheimer's Association:
Memory loss that disrupts daily life.
Challenges in planning or solving problems.
Difficulty completing familiar tasks at home, at work, or at leisure.
Confusion with time or place.
Trouble understanding visual images and spatial relationships.
New problems with words in speaking or writing.
Misplacing things and losing the ability to retrace steps.
Decreased or poor judgment.
Withdrawal from work or social activities.
Changes in mood and personality.
[From: Red-Flag Changes in Mental Functioning, 2020 Memory Medical Guidebook, pg. 32]
Introducing Your Alzheimer's Expert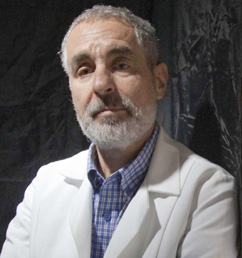 The Memory Medical Guidebook is authored by Dr. William Jagust, M.D., a professor of public health and neuroscience at the University of California, Berkeley, and a faculty senior scientist at Lawrence Berkeley National Laboratory. His work has been focused on understanding the aging brain-particularly, the borderland between brain aging and Alzheimer's disease.
The Memory Medical Guidebook
Your Guide to Alzheimer's Disease and Dementia
Here are just a few topics we discuss in the Memory Medical Guidebook:
The Biology of Memory
Health Conditions That Can Cause Memory Loss
Age-Associated Memory Impairment
Mild Cognitive Impairment (MCI)
Alzheimer's Disease and Other Irreversible Dementias
Diagnosing Alzheimer's Disease and Dementia
Risk Factors for Alzheimer's Disease and Dementia
Prevention Strategies: What You Can Do to Help Stay Mentally Sound
Treating Alzheimer's Disease and Dementia
Chart: Commonly Used Drugs for Treating Alzheimer's Disease 2020
Handling the Role of Caregiver
Health Information Organizations and Support Groups
Read More…
A wealth of research shows that people who follow the well-established health habits discussed in the Medical Guidebook have the best shot at remaining sharp-witted as they grow older.
Find out about recently developed advances in brain imaging that experts are calling a game changer. With a focus on biomarkers, not symptoms, they're helping to redefine what it means to have dementia and Alzheimer's disease.
Tips for figuring out if your medicines may be to blame for memory issues.
Expert advice on easing the toll of anticipatory grief, a complex phenomenon that can affect family members and others who care for people with Alzheimer's disease and other forms of dementia.
Learn exactly how and where memories are made.
Read More…
Get strategies for boosting your memory power, no matter what age you are.
Live long enough and most of us have some cognitive decline. Get insights on whether what you're experiencing is normal, an early stage of mild cognitive impairment, or a form of dementia-and what you might be able to do about it.
Is there any research showing that physical activity protects against mental decline? Experts answer this question for you.
Order the Memory Medical Guidebook today, and you'll also receive a FREE guide as an instant download.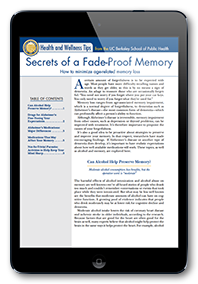 FREE Memory Health Tips:
Secrets of a Fade-Proof Memory
Hints and tips on avoiding age-related memory loss
Can Alcohol Help Preserve Memory?
Drugs for Alzheimer's: Fine-Tuning Your Expectations.
Not-So-Trivial Pursuits: Activities to Help Keep Your Mind Sharp.
Medications That May Affect Your Memory
It is important to seek early diagnosis and treatment of memory disorders. Ignoring the symptoms can compound your problems. Learn as much as you can about them now so you can be more proactive about your health.
Receive both the digital and print editions of the Memory Medical Guidebook, plus the Secrets of a Fade-Proof Memory digital guide, all for only $9.95 plus shipping. Order now and download the digital editions right away and we'll mail you the print version of the Medical Guidebook. This way you'll have access to the digital edition immediately and a printed edition to refer to whenever necessary.
Your complete satisfaction is fully guaranteed.