Description
Type 2 Diabetes: 10 Causes and Risk Factors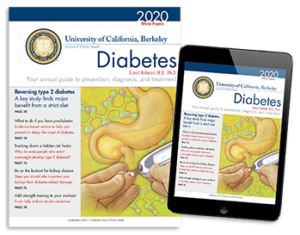 Published by the University of California, Berkeley, School of Public Health. Read More…

University of California, Berkeley,
School of Public Health
The White Papers are published by the University of California, Berkeley, School of Public Health. These publications are an outgrowth of the School's commitment to help improve the health and wellness of our community of readers by publishing expert advice on the prevention, diagnosis and treatment for a wide range of ailments and disorders. We provide trusted, authoritative health guidance from leading physicians and researchers at America's top medical centers and hospitals.
The School of Public Health is
consistently rated among the best in the nation
The School's faculty members are leading scholars in their respective fields. Many of them are members of the prestigious National Academies of Medicine and Sciences. The School enrolls approximately 700 graduate students a year, and educates about 425 undergraduate students through the upper-division public health major. The School's more than 15,000 graduates can be found working throughout the world, both in the public and private sectors.
Read More…
The School of Public Health believes that everyone,
everywhere, has the right to a healthy life
Your purchase of the Diabetes White Paper supports the School of Public Health faculty and students in their work to confront the major health challenges of our generation. A portion of every sale goes to funding scholarships. Your purchase will directly benefit your own health as well as the health of those in your community.
You can count on the White Papers to bring you medical information that is trustworthy, impeccably researched and current.
Introducing Your Diabetes Expert
Dr. Suneil Koliwad, M.D., Ph.D., is an Associate Professor in the Diabetes Center and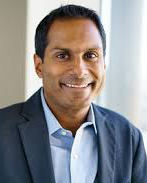 Department of Medicine at the University of California, San Francisco (UCSF), where he holds the Gerold Grodsky, Ph.D./JAB Chair in Diabetes Research. He is a board-certified endocrinologist who attends on the Diabetes and Endocrinology Services at the Zuckerberg San Francisco General Hospital.
* * * * * * * * * *
Type 2 Diabetes
Glucose is a sugar that serves as the fuel that provides energy for the body's cells. Insulin controls how much glucose the liver produces. Insulin also helps move glucose from the bloodstream into your cells, so your body can effectively use the sugar as a source of energy. Insulin is produced in the pancreas.
Type 2 diabetes is caused by insulin resistance—a reduced sensitivity of the body's tissues to the action of insulin—coupled with a progressive reduction in the ability of pancreatic beta cells to produce insulin. If you have insulin resistance, your pancreas must increase its production of insulin because your body needs more insulin to move glucose into your cells. Risk factors for type 2 diabetes include:
Heredity. Having a close relative with type 2 diabetes is associated with an increased risk of developing it. Investigators have also discovered genetic changes that can increase risk.
Race and ethnicity. Blacks, Hispanics, Asians, and American Indians have a greater risk than whites of developing type 2 diabetes.
Overweight and obesity. About 80 percent of people with type 2 diabetes are overweight or obese, and the risk of type 2 diabetes rises as a person's body mass index (BMI) increases.
Location of excess fat. People with abdominal obesity (excess fat inside the belly) are more likely to develop type 2 diabetes than are those with extra weight in the hips and thighs.
Metabolic syndrome. This condition is characterized by elevated blood glucose levels, high triglycerides, high blood pressure, low HDL "good" cholesterol, and obesity. It is linked to an increased risk of diabetes, heart disease, and stroke.
Prediabetes. People with fasting blood glucose levels higher than normal but not high enough for a diagnosis of diabetes have prediabetes. Without lifestyle changes or medication, many people with prediabetes will develop type 2 diabetes within five years.
Physical inactivity. A sedentary lifestyle is a risk factor for type 2 diabetes.
Aging. Getting older is another diabetes risk factor, likely because people exercise less, eat more carbohydrates and high-fat foods, and gain weight as they age.
Pregnancy. Women who develop type 2 diabetes during pregnancy—a condition called gestational diabetes—have up to a 50 percent increased risk of developing diabetes later in life.
Medications. Certain medications, such as corticosteroids and thiazide diuretics, increase the risk of type 2 diabetes in people who are predisposed to the disease. Statins may also slightly increase risk.
[From: the 2020 Diabetes White Paper, pg. 4, 6-13, 84.]
* * * * * * * * * *
The 2020 Diabetes White Paper
Your Guide to Prevention, Diagnosis, and Treatment
In the 2020 Diabetes White Paper, you'll find information about:
Type 1 diabetes
Type 2 diabetes
Prediabetes
The best tests for detecting diabetes
The most effective methods for testing and monitoring diabetes
The latest medications
The most current dietary advice
The best exercise regimens
The most effective strategies to prevent diabetes complications
Read More…
Latest Medications… Treatments… Research
Effective management of diabetes in the early stages is the best way to prevent or minimize future complications. People with prediabetes can prevent their condition from worsening, while those who have been diagnosed with diabetes have effective ways to monitor their condition and control their blood glucose levels.
In the 2020 Diabetes White Paper, a leading expert reports on the latest diabetes treatment strategies and explores recent research on diet and lifestyle and the newest advancements in treating diabetes. The goal of this White Paper is to help you to prevent type 2 diabetes or, if you already have it, help you manage the condition and improve your quality of life. You'll find information on the two main types of diabetes—type 1 and type 2—with a focus on the latter. You'll learn about common risk factors for type 2 diabetes, diet and exercise regimens that can help prevent it, and the best tests for detecting and monitoring the disease. In addition, you'll find information on the latest medications used for treatment and advice on preventing diabetes complications.
The 2020 Diabetes White Paper is designed to help you ensure the best outcome for your condition.
ORDER NOW… and this is just some of what you'll read:
The good news about prediabetes: Evidence-based advice to help you prevent or delay the onset of diabetes
Why do some people who aren't overweight develop type 2 diabetes?: Updated findings on the link between weight and type 2 diabetes
Strength-training exercises for better blood glucose control: Adding strength training to your workout can help reduce insulin resistance
New insights challenge the notion of type 2 diabetes as irreversible: A key study finds major benefit from a strict diet in reversing type 2 diabetes
Don't let kidney disease sneak up on you: Steps you should take to protect your kidneys from diabetes-related damage
You'll also find:
The keys to keeping weight off when you have prediabetes
Is flash glucose monitoring right for you?
Keto diets: Are they safe for people with type 2 diabetes?
What you should know about biosimilar insulin
Late-life diabetes, cognitive decline, and dementia
Order today and save 50 percent!
Thanks to this special offer, you can get BOTH the digital and print editions of the Diabetes White Paper for only $19.95 plus shipping. Order now and instantly download the digital edition AND we'll mail you the print version of the White Paper. This way you'll have access to the digital edition immediately and you'll own a printed edition to refer to whenever necessary.
No risk. Learn the latest diabetes treatment strategies.
Your complete satisfaction is fully guaranteed.