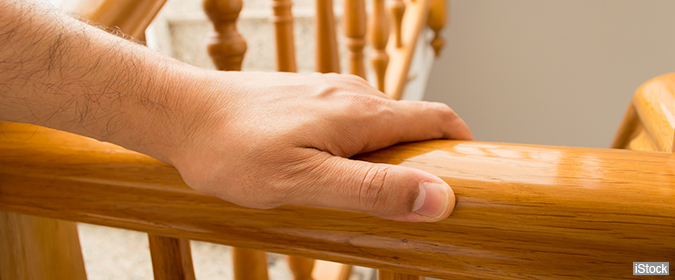 It's a good idea to examine the home of your loved one—or your own home if your loved one has moved in—to see what needs to be done to ensure their safety. Stairs, doors, and windows can be extremely risky for people with dementia. The following tips can help make these areas of the home safer.
Stairs. Walking up and down stairs is one of the leading causes of falls in the home. All stairways should have at least one handrail, but it's best to install handrails on both sides of each stairway to support the person with dementia as she or he goes up and down stairs. To ensure maximum usage and that handrails are easily visible, make sure the handrail is in a contrasting color to the wall or carpeting.
If you need to assist a care recipient as he or she goes up and down the stairs, gently lead the person to the handrail. As the severity of the disease increases, this is something that you may always need to do—don't expect the person to remember to grab onto a handrail.
If your interior stairways are not carpeted, install non-slip material on the steps to ensure the best footing. Demarcate edges of steps with contrasting colored or reflective tape. To keep care recipients with moderate to advanced dementia from going down stairs by themselves, consider installing safety accordion (baby) gates at the top and bottom of all stairways; don't forget the steep stairwells to the basement. If the person is able to climb over the gates, the risk of falling might be increased rather than decreased, so make sure the gates are sturdy enough—and high enough—so they can't be climbed over. Also, move nearby chairs away so they can't be used during an attempt to climb over the gates.
If your care recipient faces mobility and accessibility problems in the house, in lieu of relocating the bedroom downstairs and restricting all activities to the ground floor, a stairlift could be a practical solution. Although expensive, many caregivers have found that a stairlift allows the person with dementia to be cared for at home, delaying or eliminating nursing home placement.
Doors. To prevent care recipients from accidentally locking themselves in rooms, remove locks from all interior doors. To prevent wandering (which occurs in 60 percent of people with Alzheimer's), install an additional door lock in an unusual place on all exit doors, such as down low on the door, below (or above) the normal line of vision. A second lock placed high or low on the door will add more security and could be enough to thwart a confused person who was able to get the first lock opened. Be sure that you can operate both locks so there is no danger in case of a house fire.