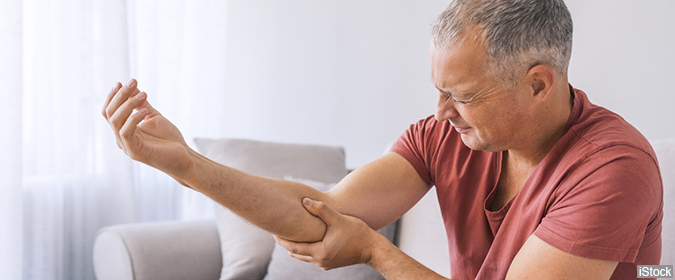 Subtle signs of rheumatoid arthritis may appear up to two years before this chronic disease is diagnosed, according to a study published earlier this year in Mayo Clinic Proceedings.
People who have rheumatoid arthritis can show signs of functional disability well before they're diagnosed with the disease, the authors report. Functional disability is defined as difficulty with daily activities such as eating, dressing, using the bathroom, bathing, walking, and housekeeping.
In the study, researchers compared two groups of Mayo Clinic patients both with and without rheumatoid arthritis. The prevalence of functional disability in the two years before a diagnosis was more than twice as high in those with rheumatoid arthritis than in those without the disease.
WHAT ELSE YOU SHOULD KNOW: As rheumatoid arthritis progresses, characteristic symptoms of the disease appear, such as joint pain, swelling, stiffness, redness, and warmth. Receiving treatment for rheumatoid arthritis sooner rather than later could slow or stop disease progression and permanent joint damage.
WHAT YOU SHOULD DO: If you're struggling with one or more daily activities, and you aren't sure why, alert your doctor. He or she can evaluate your symptoms and refer you to a rheumatologist if needed.