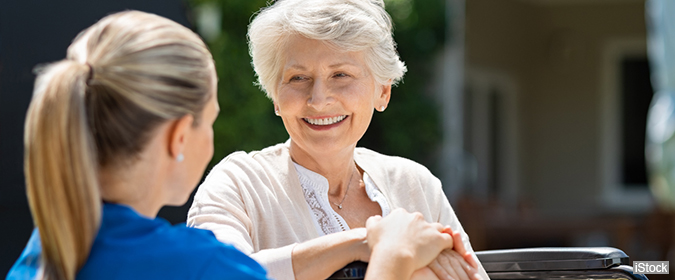 If you're considering moving a person with dementia into a residential facility, a number of options are available. They vary greatly in the types and quality of care offered, so it's crucial to do your homework before signing up. Here's a review of the possibilities.
Assisted-care facilities.
These facilities are becoming an increasingly popular option, in part because the companies that run them are aggressively developing what they call "special care units" (SCUs) that are designed for people with dementia and staffed with specially trained individuals to work with people with Alzheimer's disease (AD). The Alzheimer's Association believes that assisted care can bridge the gap between living independently and living in a nursing home.
Assisted-care facilities typically have individual rooms for residents and common areas for dining and socializing. Many of them provide services that make it possible for impaired people to live comfortably. In addition to meals, these services can include housekeeping, laundry, exercise programs, social activities, medication monitoring, help with dressing, and help with personal hygiene. Families may be charged additional fees for some services, such as medication monitoring or help with bathing. SCUs may differ from facility to facility, so be sure to check each one's guidelines and offerings. For example, some facilities ask that when a resident with AD needs more skilled care, he or she be moved from the SCU to a nursing home. In addition, some SCUs will accept AD patients who are in only the early stages of the disease.
Life-care facilities.
These resemble retirement communities but offer the advantage of increasing levels of comprehensive care as the ill person's physical or mental condition declines. The idea is that the person is taken care of until he or she dies, with graduated stages of care available, usually in different wings of the same building or in nearby buildings. Residents or their families typically make an initial down payment or entrance fee, and then pay a monthly fee after that. Be advised, however, that not all life-care facilities are prepared to accommodate advanced-stage dementia patients.
Because a long-term commitment is generally required, thorough research into the contract clauses and provider services of a life-care facility is in order.
Adult foster homes.
These are generally private homes where one or several individuals are cared for. Some adult foster homes—not all, by any means—specialize in caring for dementia patients and do a very good job. The appeal here is a cozier environment than you get in a nursing home, and in the best cases, a family-like atmosphere. The better adult foster homes provide services in addition to meals and a room, such as transportation to doctors and access to various types of community activities or social work assistance.
Boarding or domiciliary homes.
These are usually boardinghouses with more rooms than the adult foster homes. Sometimes they're called "homes for the aged" or "personal care homes." The atmosphere may be less cozy than the adult foster home setting, but that's not always the case. A room, meals, and some supervision are usually provided. Some boarding homes specialize in caring for dementia patients and do so beautifully. Others don't. Do your homework!
Nursing homes.
People whose dementia is advanced will often be moved to a nursing home, where they can receive the round-the-clock professional care they need. You can expect a full spectrum of services to be provided here, including on-site medical care, social activities, and even spiritual care. The media have portrayed nursing homes in a negative light, and some of these facilities are indeed terrible. Others, however, provide excellent care, thanks in part to improvements that have been made in response to all the bad publicity the industry has received.
Nursing homes are usually licensed by the state and regulated by the federal government, so there is some official oversight. That is usually not the case with the other options. Even so, you still have to do your homework to accurately assess the quality of care any of these nursing facilities provide. Government oversight isn't a guarantee of adequate care.