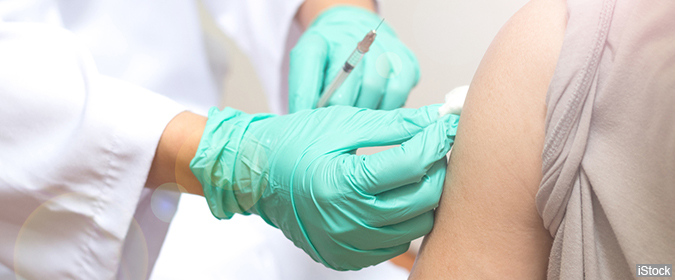 Each year the influenza virus sickens between 9 million and 49 million Americans, depending on the season's severity; sends hundreds of thousands to the hospital; and causes anywhere from 12,000 to 79,000 deaths. Most of these deaths occur in people over 65. But even for healthy younger people, the flu—characterized by high fever, body aches, headaches, and coughing—can be rough.
The CDC recommends that everyone over six months old get vaccinated against the flu. It's especially important for people 65 and older, anyone with a chronic medical condition (such as lung or heart disease, diabetes, HIV infection, or cancer), obese people, pregnant women, people on immunosuppressive drugs, and health care workers.
Roll up your sleeve
Mid-October through November is a good time to get the flu vaccine—but getting the shot later, such as in December or even January, is still better than not getting it at all. Flu epidemics usually begin in January or February (and tend to end by April), and it takes a couple of weeks to develop immunity from the vaccination. Getting vaccinated earlier than October— say, in August or early September, when the vaccine becomes available—isn't ideal because the protection (which lasts on average about six months) might be waning while influenza is still in your community. Besides the familiar injection, a nasal spray flu vaccine is also approved for people ages 2 through 50.
The flu vaccine doesn't guarantee that you won't get sick from the flu; its effectiveness has averaged 45 percent over the last 10 years (with a high of 60 percent in 2010). That's much less than the protection provided by the measles vaccine, for instance, which is 93 to 95 percent effective. But it's also not too surprising, given that every year scientists have to predict months in advance which strains of flu virus will predominate in the next flu season in order to develop the vaccine in time (flu viruses are constantly mutating, even within a current flu season).
If Mother Nature outwits the prediction—that is, if there isn't a close match between the strains of the virus selected for the vaccine and the actual circulating viruses—the effectiveness of the vaccine drops. This was seen in the 2017-2018 flu season, an especially severe one worldwide and the deadliest in the U.S. in decades. The CDC determined that the vaccine that season provided only about 40 percent protection.
Still, even when the match is incomplete, the vaccine reduces the chance of getting infected and, if you do get sick, the severity of the illness. Moreover, it reduces your risk of being hospitalized for the flu and of developing pneumonia, a life-threatening complication.