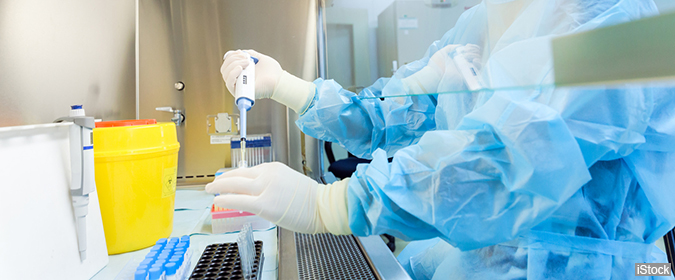 "Suffering with COPD?" the full-page newspaper ad says in large print. "Experience healing with regenerative Stem-Cell Therapy."
The ad, from a national network of for-profit centers, asserts that "our advanced treatment protocols get our patients back to the quality of life they desire and expect."
Patient testimonials bolster the claim. One person is quoted as saying, "Since my treatments, my blood oxygen levels have risen from 60 percent to 90 percent and I am no longer oxygen dependent!"
For people suffering from a progressive, debilitating illness like COPD, a new therapy that offers hope where little existed before may seem like the answer to a prayer. You may have seen such ads yourself in a newspaper, on TV, or online. But can you really trust their message?
No. Unfortunately, medical experts are in broad agreement that so-called stem-cell therapy for lung disorders is ineffective.
In fact, such therapies are often untested, unapproved, and expensive. At least 570 private clinics across the country offer treatment for various conditions, ranging from arthritis and Parkinson's disease to heart disease and erectile dysfunction as well as COPD. The U.S. Food and Drug Administration (FDA) warns on its website that it "is concerned that some patients seeking cures and remedies are vulnerable to stem-cell treatments that are illegal and potentially harmful."
The promise of stem cells
Sometimes referred to as "master cells," stem cells are the building blocks for every part of our bodies. There are different kinds of stem cells, but they all have the ability to replicate themselves.
They also have the potential to fix and replace damaged cells, which makes them of great interest to medical researchers. Bone-marrow transplants are an example of a therapy that uses healthy stem cells to replace destroyed cells. The healthy bone-marrow cells make new blood, taking over for the destroyed marrow. Bone-marrow transplants are one of the few uses of stem cells that are now commonly accepted.
Scientists have been studying the potential for stem-cell therapies in lung disorders. Animal research has been encouraging. And some clinical trials approved by the FDA have been done in people with lung diseases, such as COPD and idiopathic pulmonary fibrosis.
But actual treatments are only a theoretical option at this point, according to a statement by the American Thoracic Society. "As of now, there are no proven stem-cell treatments for any lung disease," the group has stated. "Unfortunately, there are hundreds of clinics and other groups offering unproven stem cell treatments in the U.S."
The American Lung Association, the Cystic Fibrosis Foundation, the Pulmonary Fibrosis Foundation, the Pulmonary Hypertension Association, the COPD Foundation, the European Lung Foundation, and more than a dozen other medical and advocacy groups signed a joint statement in July 2016 urging patients to steer clear of these treatments.
The statement listed five common characteristics of stem-cell programs that make them different from legitimate treatment— and should serve as red flags to patients. They are:
exorbitant costs
misrepresentation of risks and benefits
overreliance on, and advertisement of, patient testimony
poor patient follow-up
absence of regulatory oversight and objective clinical evidence for claimed benefits.
Dangers of unproven treatments
Patients who extol the virtues of their stem-cell treatments may be benefiting from the placebo effect, a result caused by the patient's own belief that a therapy or medicine will help.
But such treatments are often ineffective—or worse, they may cause serious harm. One woman was left blind and two others suffered severe vision loss after a Sunrise, Florida, clinic injected stem cells from their own fat tissue into their eyeballs, according to a March 16, 2017, article in The New England Journal of Medicine. The patients were being treated for macular degeneration, the most common cause of vision loss in people older than 75.
"The patients paid for a procedure that had never been studied in a clinical trial, lacked sufficient safety data, and was performed in both eyes on the same day," the article said.
A clinic in Southern California treated cancer patients with an unapproved stem-cell material containing smallpox vaccine— which is not commercially available. The vaccine could have caused inflammation within and around the heart, according to a statement from the FDA upon its seizure of the product in August 2017.
In another case, a 66-yearold man received infusions of a stem-cell product overseas in order to treat the aftereffects of a stroke. He later developed a tumor on his spinal cord that caused him to lose the use of his legs. A June 22, 2016, letter to the editor in The New England Journal of Medicine, signed by eight doctors at Brigham and Women's Hospital, Boston, described the result as an example of an "extremely serious complication of introducing proliferating stem cells into patients." The patient partly recovered after radiation treatment.
Federal authorities take action
In May 2018, federal prosecutors sued to shut down the stem-cell companies involved in the cases of the visually impaired women and the smallpox vaccine recipients.
The lawsuits were filed at the request of the FDA, which sent a warning letter to one of the companies in 2017, pointing to numerous violations. Both companies made "stromal vascular fraction" (SVF) products from patients' own adipose, or fat, cells—products not approved by the FDA. They sought to treat lung disease and stroke, among other conditions. Both did so "without proof of safety and efficacy," according to a press release from the U.S. Department of Justice. It said that those practices were putting consumers at risk.
The U.S. government has no authority when it comes to clinics overseas, which also market stem-cell treatments to Americans. Stem-cell clinics have fought back by arguing that they use cells from patients' own bodies. That does not qualify as a drug, so the FDA would not have oversight, they maintain. However, in July, the FDA sought permanent injunctions to close two stem-cell clinics that it claimed marketed stem-cell products without approval.
Additional cautions to consider
If you are struggling to cope with an incurable illness such as COPD, you might be willing to try just about anything. You might wonder what you have to lose from untested treatments.
The consequences may be greater than you think, however, according to the International Society for Stem Cell Research, a group of nearly 4,000 scientists, doctors, and industry professionals.
As noted previously, you may suffer new or worsening health problems as a result of unauthorized stem-cell treatments. In addition, getting an unproven treatment could make you ineligible for future legitimate treatments or clinical trials. And fees—which are not covered by health insurance—can be significant. Clinics that list their prices online (many do not) cite figures ranging from $850 to $23,000 and above.
If you are still unsure about stem-cell treatments, have a discussion with your doctor or visit www.closerlookatstemcells.org.